Other winners include Michael Inside, The Drummer And The Keeper and Rocky Ros Muc.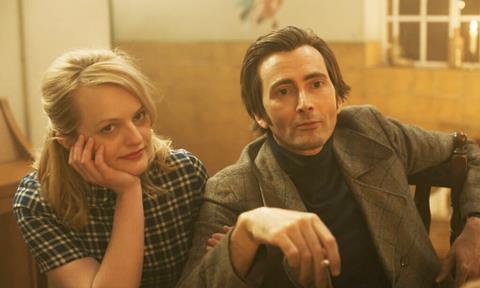 The 29th Galway Film Fleadh handed out its annual awards last night (July 16) and named Robert Mullan's Mad To Be Normal as best international feature.
The 1960s-set film stars David Tennant as real-life hippy psychiatrist RD Laing and co-stars Elisabeth Moss as his girlfriend Angie Wood.
The awards ceremony took place after the Irish Premiere of Christopher Nolan's Dunkirk.
The prize for best Irish feature went to Frank Berry's Michael Inside, the story of a young Dubliner (played by Dafhyd Flynn) whose life disintegrates when he is sent to prison.
Nick Kelly's The Drummer And The Keeper, about an unlikely friendship between the bipolar drummer of a rock band and an teen suffering from Asperger's syndrome, won best first Irish feature.
Rocky Ros Muc, directed by Michael Fanning and telling the story of boxer Sean Mannion, won the best Irish feature documentary award.
Richard Kendrick won the best cinematography in an Irish feature prize for Song Of Granite.
Galway Film Fleadh Winners 2017
BEST IRISH FEATURE
Michael Inside, Frank Berry
BEST INTERNATIONAL FEATURE
Mad to be Normal, Robert Mullan
BEST IRISH FIRST FEATURE
The Drummer and the Keeper, Nick Kelly
BEST IRISH FEATURE DOCUMENTARY
Rocky Ros Muc, Michael Fanning
BEST INTERNATIONAL FIRST FEATURE
God's Own Country, Francis Lee
BEST INTERNATIONAL FEATURE DOCUMENTARY
All the Wild Horses, Ivo Marloh
BEST CINEMATOGRAPHY IN AN IRISH FEATURE
Richard Kendrick for Song Of Granite
BEST HUMAN RIGHTS FEATURE
City of Ghosts, Matthew Heineman
Shorts
BEST FIRST SHORT ANIMATION AWARD
An Béal Bocht, Tom Collins
BEST FIRST SHORT DRAMA
The Date, Selina Cartmell
DON QUIJOTE AWARD FOR ANIMATION IN A SHORT FILM
An Béal Bocht, Tom Collins
DONAL GILLIGAN AWARD FOR BEST CINEMATOGRAPHY IN A SHORT FILM
Burschi Wojner for Wave
BEST ANIMATED SEQUENCE IN A SHORT FILM
Late Afternoon, Cartoon Saloon
BEST SHORT DOCUMENTARY AWARD
Throwline, Mia Mullarkey and Tit for Tatt, Mairéad Ní Thréinir (joint winners)
ONE MINUTE FILM FESTIVAL
Tempo, ARJAN BRENTJES
Oscar Qualifying Categories
Since 2011, the Fleadh has been recognised as a qualifying festival for the Academy Awards. Recipients of the James Horgan Award For Best Animation and Tiernan Mcbride Award For Best Short Drama will qualify for consideration.
JAMES HORGAN AWARD FOR BEST ANIMATION
An Island, Rory Byrne
TIERNAN McBRIDE AWARD FOR BEST SHORT DRAMA
Wave, Benjamin Cleary and TJ O'Grady Peyton