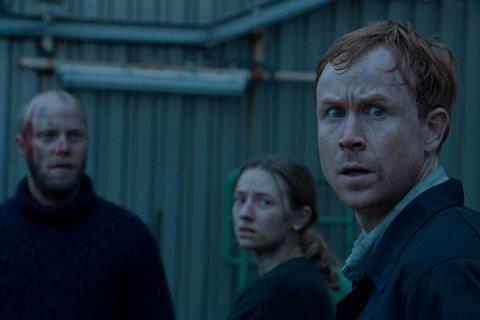 Magnolia Pictures has acquired US rights to Norwegian disaster film The North Sea from TrustNordisk.
The film is the latest disaster drama from the team at Fantefilm, following The Wave and The Quake, which Magnolia also released. John Andreas Andersen directs and the film is co-written by Harald Rosenlow Eeg (The Quake, The Wave) and Lars Gudmestad (Headhunters).
The North Sea imagines a disaster set in the offshore oil drilling operations in the North Sea that threatens Norway and Northern Europe. Kristine Kujath Thorp (Ninjababy) leads the cast, which also includes Henrik Bjelland, Rolf Kristian Larsen, Anders Baasmo Christiansen and Bjørn Floberg.
The Norwegian Film Institute and Nordisk Film & TV Fond backed the production, which was budgeted at Euros 6.5m. Producers are Martin Sundland, Catrin Gundersen and Therese Bøhn for Fantefilm Fiksjon.
The deal was negotiated by Magnolia EVP Dori Begley and SVP of acquisitions John Von Thaden with TrustNordisk's Susan Wendt.
The North Sea received its world premiere in Rome and Magnolia plans a 2022 release. Nordisk released in Norway on Friday (October 29) and the film led the local box office this weekend with 54,932 admissions (the third best opening weekend of 2021). It was by far the biggest draw at the Norwegian box office, with No Time To Die in second spot with 18,595 admissions this weekend. The Wave had a cumulative 833,000 admissions in 2015 and The Quake drew 590,000 in 2018.
TrustNordisk has also sold the film to the UK (Elysian Film Group), France (Mediawan), Germany, Austria and Switzerland (Koch Films), Canada (Mongrel Media), Japan (Inter Film), South Korea (AtNine), Taiwan (Moviecloud), Hong Kong (Sundream), Poland (Hagi), Former Yugoslavia (Cinemania), Czech Republic and Slovakia (Foxx), India, Pakistan and Afghanistan (Impact Films), Benelux (Just Licensing), Italy (Minerva Pictures Group), Spain (Mediaset Espana), Russia and the Baltics (VLG.FILM) and Latin America (California Filmes).
The director is also ready reteaming with Fantefilm and writers Rosenløw Eeg and Gudmestad for Second World War film Convoy, which is slated for a 2022 shoot.