Munich-based Studio 100 has licensed its first film project Maya The Bee – Movie to Russia's Premium Film.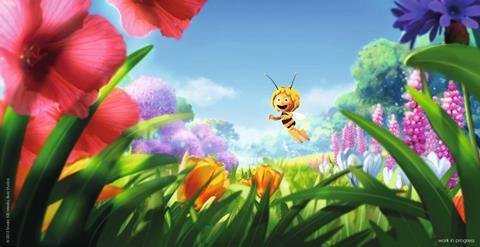 The agreement includes TV, home video and new media rights within the CIS territories. Premium Film has plans for an extensive theatrical release (more than 600 prints) following its German premiere in September 2014.
Studio 100 Film previously sold the rights to Universum Film for German-speaking territories, with Monolith Films and Karantanija Cinemas on board to handle the distribution in Poland and Ex-Yugoslavia respectively.
The 3D animated feature is an Australian-German co-production between Studio 100 Media and Buzz Studios.
It is directed by Alexs Stadermann, who has worked on animated features such as The Lion King for Disney and Aardman Studios.
The character originates in the 1970s and the new 3D film follows curious little bee Maya and her friend Willy as they try to save their hive from the greedy queen's advisor and end a long feud between bees and hornets.
Executive producers are Patrick Elmendorff, MD of Studio 100 Media and Jim Ballantine, head of Buzz Studios. Producers are Barbara Stephens for Buzz Studios and Thorsten Wegener for Studio 100 Media.
Nadezda Motina, head of acquisitions at Premium Film, said: "We see Maya The Bee 3D movie as one of the biggest and leading project's for our company in 2014. It will be released nationwide and we plan to put out the first teaser and POS materials at the end of this year."