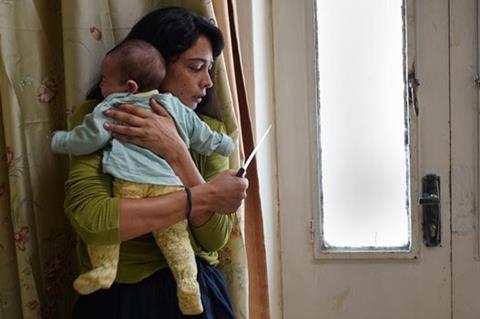 Paris-based Memento International has sold Palestinian director Hany Abu-Assad's Huda's Salon to a slew of key territories ahead of its world premiere in the Platform competition at the Toronto International Film Festival this week.
The political thriller has been acquired by Spain (Karma Films), Greece (Rosebud.21), Turkey (Filmarti Film), ex-Yugoslavia (Megacom), Latin America (Cineplex), Taiwan (Andrews Film) and Indonesia (PT Falcon).
The feature has also been bought by IFC for US and Canada.
Shot mainly in Bethlehem as well as other West Bank locations, Huda's Salon is Abu-Assad's first feature filmed and set in Palestine since 2015 drama The Idol.
Maisa Abd Elhadi, also seen recently in The Alleys and Gaza Mon Amour, plays a woman with a jealous husband who is tricked into a compromising situation while on a routine trip to a Bethlehem hair salon, run by Huda, played by Manal Awad. Ali Suliman also stars as a local militant leader.
The film is produced by Abu-Assad and Amira Diab, under the banner of their H&H Productions, and Mohamed Hefzy's Film Clinic with co-producers Mad Solutions, Lagoonie Film Production, KeyFilm, Cocoon Films, and Philistine Films in association with Doha Film Institute. Memento's Emilie Georges and Mathieu Delaunay served as executive producers.
Abu-Assad has a high profile in North America. He has represented Palestine twice in the best international film Oscar race with Paradise Now and Omar, nominated in 2006 and 2014 respectively. He has also worked in the US, directing 2012's The Courier and 2017's The Mountain Between Us.