Pan-Arab distributor Front Row Filmed Entertainment has unveiled a slew of high-profile additions to its 2018-19 slate as the Dubai International Film Festival (DIFF) kicks off, including Iraqi War media manipulation drama Shock And Awe which gets a gala screening at the event.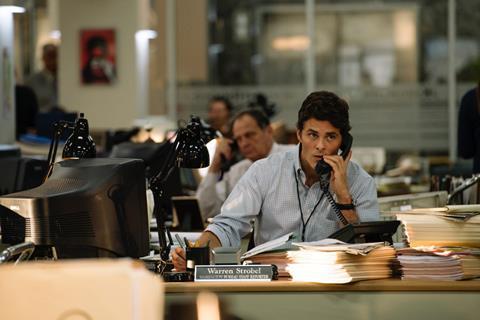 Shock And Awe, which is sold internationally by Nicolas Chartier's Los Angeles-based Voltage Pictures, is among some 30 new titles acquired by the Dubai-based company at the American Film Market in November.
Other pick-ups from Voltage Pictures include Distorted, starring Christina Ricci as a bipolar artist who becomes convinced there is something amiss in her new hi-tech apartment; supernatural thriller Between Worlds, starring Nicolas Cage as man who connects with his dead wife; serial killer tale Extremely Wicked, Shockingly Evil And Vile and Amy Schumer comedy I Feel Pretty.
The company also acquired a quartet of titles from Thorsten Schumacher's Rocket Science: Robert Redford's thriller Old Man And The Gun, in which he plays an ageing gangster; Harmony Korine's Florida-set The Beach Bum, starring Matthew McConaughey and Snoop Dogg; Julian Schnabel's Vincent van Gogh biopic At Eternity's Gate, featuring Willem Dafoe as the tortured artist, and Nicole Kidman-starrer Destroyer.
Front Row has also acquired a number of family entertainment titles including upcoming animations Big Trip 3D, about a baby panda who is delivered to the wrong address, from Licensing Brands, and Sgt Stubby: An American Hero, inspired by the true story of a rescued stray dog that became a World War One hero, which is being sold Internationally and distributed in the US by Fun Academy Studios.
More high-brow purchases include Richard Eyre's upcoming TV adaptation of King Lear, starring Anthony Hopkins and Emma Thompson and jointly produced by the BBC and Amazon.
It has also acquired euthanasia drama Euphoria by Swedish auteur Lisa Langseth from UK-based Great Point Media.
The acquisitions also include biopics Judy, in which Renee Zellweger will play Hollywood star Judy Garland. The company picked up the title from Pathé International in partnership with Empire International.
Other biopics include Red Joan, inspired by real-life British KGB spy Melita Norwood, from Embankment; and Colette, starring Keira Knightly as the renowned French novelist, from Hanway.
It also acquired comedy drama Made In Italy from Hanway, starring Bill Nighy as a bohemian London writer who is reunited with his estranged son as they restore the Tuscan villa of his late wife.
Tapping into the love of genre fare in the region, Front Row also bought zombie musical Anna And The Apocalypse and crime comedy Blue Iguana from London-based AMP International.
The company also acquired rights to Guy Pearce's directorial debut Poor Boy, about two families united by events which took place seven years previously, from Cinema Management Group.
As part of its push into the SVoD market, Front Row also picked up two horror genre TV shows: Age Of The Living Dead and Age Of The Living Undead.
Five other previously acquired Front Row titles are also playing at DIFF this year including a restored copy of Mustapha Akkad's epic film The Message, You Were Never Really Here, On Chesil Beach, Mary Shelley and The Killing Of A Sacred Deer.