Palin posts on Facebook about his friend of fifty years.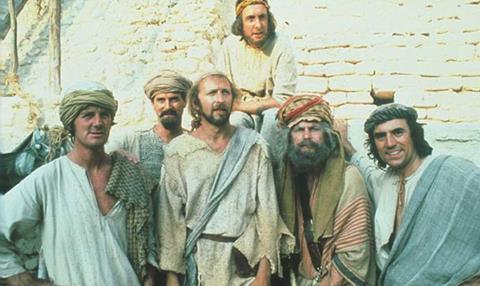 Monty Python star Michael Palin took to Facebook over the weekend to write an emotional post about his longtime friend and Python co-star, Terry Jones, following the latter's diagnosis with dementia.
Jones, 74, who directed Monty Python's Life Of Brian [pictured] and The Meaning Of Life, and co-directed Monty Python And The Holy Grail with Terry Gilliam, is suffering from primary progressive aphasia, a form of dementia, which affects his ability to communicate.
Palin and Jones have been friends and workmates for over fifty years. Palin said: "The progress of his dementia has been painful to watch and the news announced yesterday that he has a type of aphasia which is gradually depriving him of the ability to speak is about the cruellest thing that could befall someone to whom words, ideas, arguments, jokes and stories were once the stuff of life."
Palin revealed he had met up with Jones earlier last week. He wrote: "Not that Terry is out of circulation. He spends time with his family and only two days ago I met up with him for one of our regular meals at his local pub."
"Terry doesn't say very much but he smiles, laughs, recognises and responds, and I'm always pleased to see him. Long may that last."
The news of Welsh-born Jones's illness was made public on September 21, as BAFTA Cymru announced that the BAFTA Special Award for Outstanding Contribution to Film and Television will be presented to the BAFTA-nominated actor, writer and director.