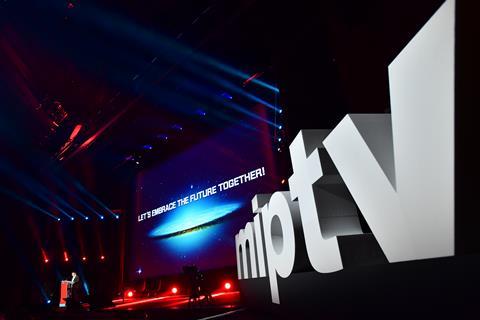 MIPTV organisers Reed MIDEM teased a major overhaul of its 2020 edition at a press briefing as the annual TV and content market kicked off in Cannes on Monday (April 8).
The event, which remains the second biggest TV sales and acquisition market in the world after sister meeting MIPCOM, has come under pressure in recent years as TV business models move to focus on development and production.
Laurine Garaude, director of Reed MIDEM's television division, said the organisation had already taken this shift on board with the creation of the In Development strand last year - focusing on series at the projct stage - and was now mulling further initiatives that could result in a "re-imagined exhibition" next year.
"We've been consulting with our clients specifically to understand their evolving needs in very changing times," said Garaude. "The feedback has been that content development is key to all of them, from buyers to distributors and producers. Growing that focus at MIPTV is essential."
The other big message, she said, was that clients needed "more flexible solutions" in order to continue attending MIPTV.
She emphasised MIPTV's traditional focus on sales and acquisition, and distribution, would also remain at the heart of the event.
"MIPTV is two markets in one with two pillars, that of distribution, which we traditionally associate with MIPTV, and a second growing pillar, which is development," she said.
Garaude added any changes to the MIPTV format would be co-constructed with the participants.
"We've built a vision which we're discussing with our clients here and after the show. We have some very exciting plans," she said.
New appointment to drive change
Garaude announced that Lucy Smith, who is currently director of MIPDoc and MIPFormats, had been appointed as deputy director of the television division to drive these innovations. Smith said her ambition was to take MIPTV's content development offering to the next level with "more screenings, pitches, and showcases.
"It's really about offering more curated matching opportunities for producers and distributors with buyers and commissioners," she said. "We believe people need a new context to make the connections and partnerships they need to forge to work together differently," she said.
She continues as director of MIPDoc and MIPFormats in her new role.
Speaking to Screen after the briefing, Garaude would not be drawn on details of the new initiatives but said the aim was to change "the experience of the client in a positive way".
"I can't tell you what that is - but there is something which we're testing - it's a reimagined exhibition with a new client experience within the exhibition," she said.
MIPTV 2019
Speaking more generally about the 2019 edition, Garaude told the briefing that 9,500 professionals from 100 territories were expected to attend this year, 3,300 of them buyers and commissioners.
She noted there were 40 new exhibitors including US agent Endeavor Content and new national pavilions for Bulgaria and Romania.
Commenting to Screen on the absence of BBC and Endemol as exhibitors this year, which has been cited by some publications as a sign of MIPTV's decline, Garaude said both organisations were out in force at MIPTV but in a different guise.
"It's kind of a fake news because the BBC is not there in the way it used to be but it is here," she said. "There are 35 people from the BBC here and they have an area and meeting space in In Development. They are participating but in a different way."
She said the same went for Endemol, noting the high level of advertising from the company around the market this year.
Talking specifically about this year's In Development strand, Garaude noted that it had been incorporated into the main Palais des Festivals venue this year and expanded beyond drama to also include kids and documentary content.
She said MIPTV had received 800 submissions across all genres to participate in the In Development pitch sessions.