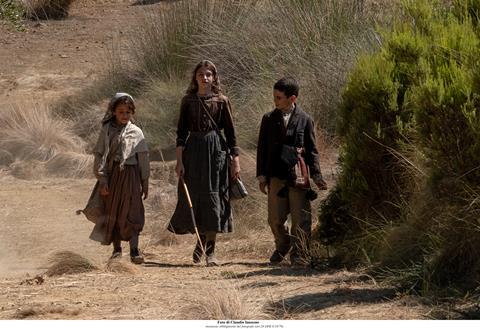 Principal photography is underway in Portugal for US-based Origin Entertainment, Elysia Productions and Rose Pictures on the drama Fatima starring Harvey Keitel and Sonia Braga, the Brazilian veteran who earned widespread acclaim in the 2016 drama Aquarius.
Goran Visnjic, Joaquim de Almeida and Lucia Moniz also star in the US-Italy co-production based on the true account of three Portuguese shepherd children who during the First World War made a prophecy that the Virgin Mary (referred to as Our Lady of Fatima) would appear.
Despite doubting family members and the efforts of government officials to silence the children, tens of thousands of people turned out on May 13, 1917, and reportedly witnessed what became known as the Miracle Of The Sun, also known as the Miracle Of Fatima, when it is said the sun behaved erratically and emitted multicoloured light. To this day, the site remains a major destination for pilgrims.
Stephanie Gil and newcomers Alejandra Howard and Jorge Lamelas are cast as the shepherd children.
California-based Origin Entertainment developed the screenplay and Marco Pontecorvo directed from the screenplay he and Valerio D'Annunzio adapted from the story by Barbara Nicolosi. Pontecorvo's 2008 film Pa-ra-da premiered in Venice 2008 and his credits include cinematographer on John Turturro's 2013 comedy Fading Gigolo.
Origin chairman and founder James T. Volk is producing with Turin-based Elysia Productions founders Stefano Buono and Maribel Lopera Sierra, alongside Origin CEO Dick Lyles, Rose Ganguzza of Rose Pictures, Marco Pontecorvo, and Natasha Howes.
Production is taking place entirely within Portugal in collaboration with the ICA (Instituto de Cinemae Audiovisual), and with the Ministry of Tourism / Ministry of Economic Affairs, in locations that include Fatima itself, Sesimbra, Cidadelhe (Pinhel), Tomar, Coimbra, and Tapada de Mafra.
The production filmed the 100th Year Anniversary Mass in Fatima in May of 2017, celebrated by Pope Francis, and portions of the footage will be used in the end credit sequence.
All interiors will shoot in Lisbon, at Contra Campo Studios, while Panorama Films of Rome will oversee physical production of the film and Vivi Film Portugal will provide Portuguese Production Services. Fatima is expected to open in 2019.
"The Fatima story is unique in that it transcends religion and touches the hearts of all people, regardless of faith," said Ganguzza, who produced Kill Your Darlings and served as executive producer on Margin Call and New York, I Love You. "The story's universal appeal re-connects us all with our humanity and the belief that miracles do happen."
The producers are in talks with sales agents.