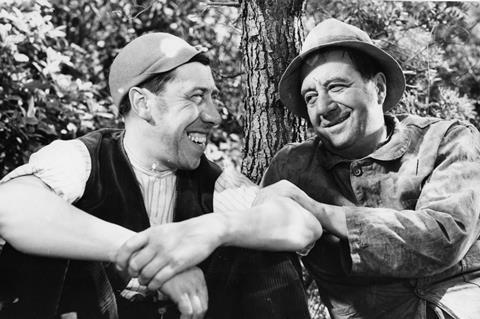 France's mk2 films is ramping up its heritage film operation with the appointment of Frédérique Rouault as head of collections and the acquisition of a raft of catalogues by directors who have marked cinema history.
In one of its most significant heritage deals to date, the company has acquired the rights to the entire collection of films by the late writer and director Marcel Pagnol.
Until now, the catalogue has been managed by grandson Nicolas Pagnol under the banner of La Compagnie Méditerranéenne de Films (MCF), the Marseilles-based production company created by his grandfather in 1944.
"Pagnol is famous worldwide as a writer but his work as a director is not as well-known internationally, even if his films were immensely popular at home," said mk2 films CEO Nathanaël Karmitz.
Highlights of the 23-title collection include 4K restorations of The Marseille Trilogy (comprising Marius, Fanny and Cesar), The Baker's Wife, Manon Of The Source and The Well-Digger's Daughter starring Pagnol's long-time collaborator Raimu.
"I'm very happy to associate the names of Marcel Pagnol and La Compagnie Méditerranéenne de Films with mk2. It seems like a natural association bringing together two family companies with similar values around heritage films and their transmission," said Pagnol
Other recent acquisitions include the catalogues of Haitian filmmaker Raoul Peck and French director Jacques Rozier, whose work was recently showcased in the "Forgotten Directors Of The French Wave" at the Museum of Modern Art (MOMA) in New York.
Chaplin,Varda and Truffaut
They join more than 800 titles in the mk2 catalogue which is one of the largest classic film collections in the world, featuring the filmographies of Charles Chaplin, François Truffaut, David Lynch, Agnès Varda, Jacques Demy, Abbas Kiarostami, Krzysztof Kieślowski, Buster Keaton, Claude Chabrol, Michael Haneke, Stan Laurel, and the RKO Collection.
Rouault is an experienced sales agent who was previously head of sales positions at Celluloid Dreams and Playtime. In her new role, she will spearhead mk2's library operations across all platforms, from theatrical to streaming. She will also scout for new catalogue acquisitions; monitor restorations and work closely with mk2 head of marketing Benoit Claro on special events and business development.
She will report to Karmitz and mk2 films managing director Fionnuala Jamison. She will also work closely with Rosalie Varda, who joined the company in 2020 as a senior advisor and ambassador for the catalogue, having managed the collections of her mother Agnes Varda and step-father Jacques Demy for many years.
"mk2 is one of the most emblematic companies for catalogues in France. It has a dynamic approach in the way it treats heritage films like new films on a re-release with fresh trailers and marketing material. I'm looking forward to the challenge of connecting the mk2 collection with new generations of filmgoers," said Rouault.
In Cannes, she will be focusing on half a dozen new 4K restorations, with the support of recently hired catalogue international sales manager Jacques-Antoine Jagou.
They include Jacques Rozier's forgotten 1962 classic Adieu Philippine, which played in the first edition of Cannes Critics' Week; a 25th-anniversary edition of David Lynch's Lost Highway, which was supervised by the director; Claire Denis's 1988 first film Chocolat, and Olivier Assayas's Irma Vep, the 1996 film behind the new HBO series starring Alicia Vikander, which gets a sneak preview in the Cannes Premiere line-up.
Further titles include 4K versions and marketing material for two films in Claude Chabrol's Lavardin: A Very French Inspector franchise as part of mk2's ongoing restoration and promotion of the French director's work.
Karmitz noted that Rouault's appointment and the recent acquisitions of the Pagnol, Rozier and Peck catalogues follow in the wake of a busy two years for mk2 films in terms of heritage film activities.
In 2020, the company struck a landmark deal with Netflix to show 50 classic films on its French service and it hired Varda, while it was involved in a major Kiarostami retrospective at the Beaubourg Centre in Paris in 2021, and François Truffaut season at the BFI in early 2022.
"We've always been active in the domain of heritage cinema but the last two years have been particularly rich and these new developments mark a continuity of this work," he said.