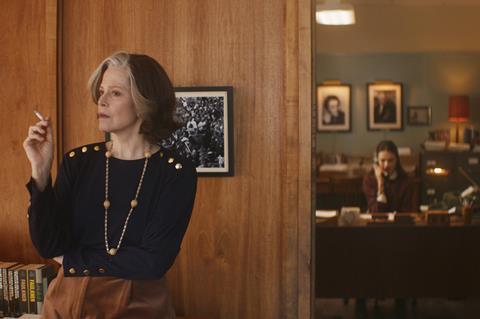 Vertigo Releasing has acquired UK and Ireland rights to Philippe Falardeau's My New York Year from Memento Films, and is the first title confirmed for release when indoor cinemas reopen in England post-lockdown.
The UK government announced yesterday that cinemas in England can provisionally reopen from May 17 with a capacity of up to 1,000 people or 50% of the venue, as part of a phased easing of Covid-19 lockdown measures. Drive-in cinemas may be cleared to reopen from April 12.
Vertigo is planning a saturation release for the drama, starring Sigourney Weaver and Margaret Qualley, from May 17 but how many venues will open on that date has yet to be determined.
Vertigo is also set to release awards contender Sound Of Metal, starring Riz Ahmed, soon after the reopening, having postponed its planned December release as a result of the second lockdown.
My New York Year opened the Berlinale in 2020 under the title My Salinger Year and will receive its UK premiere at the virtual Dublin International Film Festival (March 3-14).
Set in New York City in the 1990s, the film follows an aspiring poet, played by Qualley (Once Upon A Time… In Hollywood), who works as an assistant to a literary agent, played by Weaver, answering the fan mail to cult author J.D. Salinger.
The Canada-Ireland co-production is based on international bestseller My Salinger Year by US author Joanna Rakoff and was adapted by Falardeau. Producers are Luc Déry and Kim McCraw of Mirco_scope, and co-producers are Ruth Coady and Susan Mullen of Parallel Films in association with Memento Films International and La Cinéfacture.
It is scheduled to be released in the US and Canada on March 5 by IFC Films and Mongrel Media respectively.