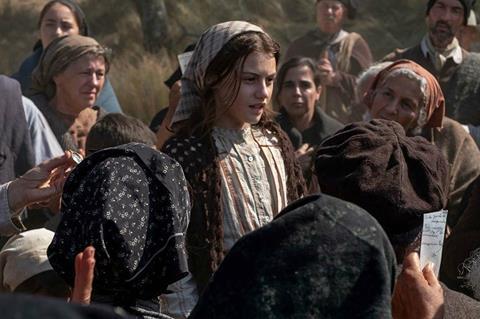 Myriad Pictures has picked up international sales on faith-based drama Fatima starring Stephanie Gil, Lúcia Moniz, Joaquim de Almeida, Goran Visnjic, Sonia Braga and Harvey Keitel and will launch sales at EFM this month.
Bob and Jeanne Berney's revived distribution label Picturehouse will release the drama in North America on April 24 on more than 1,000 screens.
Marco Pontecorvo directed from a screenplay he co-wrote with Valerio D'Annunzio and Barbara Nicolosi based on historical events about a 10-year-old shepherd and her two young cousins in Fátima, Portugal, who report seeing visions of the Virgin Mary.
Their revelations inspire believers but anger officials of both the Church and the secular government, who try to force them to recant their story. As word of their prophecy spreads, tens of thousands of religious pilgrims flock to the site in the hope of witnessing a miracle.
Fátima is home to the Sanctuary of Our Lady of Fátima, which is said to receive millions of pilgrims each year to gather in the square where the Virgin Mary is believed to have appeared. In 2017, Pope Francis commemorated the 100th anniversary of the apparitions.
James T. Volk, chairman and founder of Origin Entertainment, produced the drama with Dick Lyles, Stefano Buono, Maribel Lopera Sierra, Rose Ganguzza, Marco Pontecorvo, and Natasha Howes.
Myriad president and CEO Kirk D'Amico said, "We are proud to bring this extraordinary film about the miracle at Fátima to the international marketplace. Marco Pontecorvo has directed this visionary and inspirational film of faith in such an accomplished and beautiful way. We are excited to be working with all the producers and to be working alongside Bob and Jeanne Berney at Picturehouse as the US release unfolds in a major way in April."