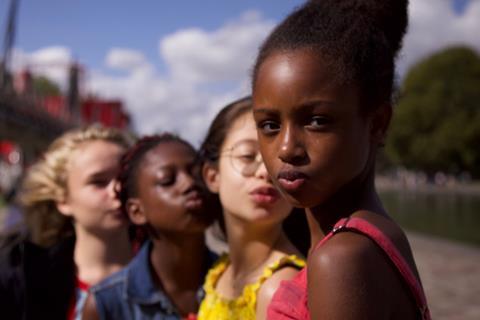 Netflix has apologised for a poster promoting Maïmouna Doucouré's Cuties (Mignonnes).
The drama centres on an 11-year-old Senegalese girl, recently arrived in Paris, who falls in with a gang of girls obsessed with their looks and who post images of themselves on social media.
The title won the Directing Jury Award at this year's Sundance Film Festival and will be distributed by Netflix outside of France from September 9. Bac Films are releasing theatrically in France this weekend.
Netflix's promotional artwork for Cuties drew a significant online backlash, centred around accusations that the image sexualised its young lead characters. A petition calling for the film's removal had reached 85,000 signatures as of yesterday (August 20).
The streaming giant responded with the following statement: "We're deeply sorry for the inappropriate artwork that we used for Mignonnes/Cuties. It was not OK, nor was it representative of this French film which won an award at Sundance. We've now updated the pictures and description."
Netflix has not changed its release plans for the title. The description now reads: "Eleven-year-old Amy starts to rebel against her conservative family's traditions when she becomes fascinated with a free-spirited dance crew."
Screen's review of Cuties said: "The sight of twerking pre-teen bodies is explicitly designed to shock mature audiences into a contemplation of today's destruction of innocence, but some missteps hold Cuties at a distance for that demographic."