In Feb-Apr 2016, Netflix was viewed by 23% of British adults, while Amazon Prime Video was used by 7%.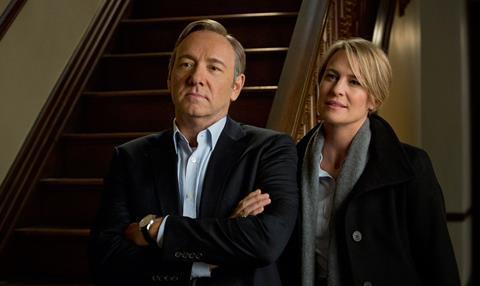 Netflix was watched by nearly a quarter of the British viewing public between February and April 2016 as it stormed ahead of Amazon Prime Videos, its nearest SVoD rival, according to the latest Ofcom data.
The service, which features hit series including House Of Cards, was viewed by 23% of adults over the three months, up 10 percentage points on the same period in 2014 and markedly ahead of Amazon, which was used by 7% of adults in the UK, up from 5%. Sky's Now TV trailed in third among OTT services, watched by 4% of viewers, against 1% in 2014.
Access to back catalogue TV and film archives was cited as the single greatest reason that audiences signed up to services, but Netflix users were the most likely to have signed up for original content.
Almost one third (31%) of Netflix viewers said they had subscribed to watch original shows, compared with 19% for Amazon users and 9% for Now TV.
Four of the top 10 most watched programmes across these services in 2015 were originations: Orange Is The New Black, Narcos, House Of Cards (all Netflix) and The Man In The High Castle (Amazon).
However, AMC meth drama Breaking Bad, which had previously aired on Channel 5 and Fox in the UK, was the most watched show across OTT.
But the regulator's Communications Market Report 2016 also highlighted a slowing in the growth of VoD viewing during 2015.
Six in 10 adults said they had used a VoD service in 2015, up by 2 percentage points on 2014, but slower than the 6 percentage point hike between 2013 and 2014.
This tallies with Netflix's latest subscriber figures with the firm only adding 160,000 subs in the US and 1.52 million around the world over the three months to the end of June 2016, below its forecast of 2.5 million new members.
The report also found that take-up among young audiences is plateauing.
Among five-to-24 year olds usage grew from 70% in 2014 to 72% in 2016, while among 25-34 year olds usage remained at about 70%.
However, growth is still accelerating in older age categories. For example, 45-54 year olds use of VoD grew the fastest since 2014, from 58% to 63%. While over-65s usage grew by 4 percentage points over the same period to 35%.
This story first appeared on Screen's sister publication Broadcast.