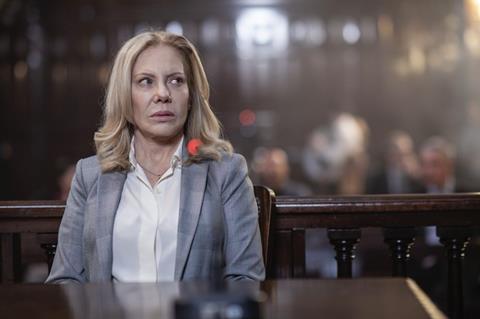 Netflix has picked up worldwide rights from FilmSharks to Argentinian thriller Crímenes de Familia starring double Goya winner Cecilia Roth.
Sebastián Schindel, whose previous drama The Son is a Netflix Original, wrote and directed the film about Alicia, a woman who will go to any lengths to protect her son Daniel after he is charged with the attempted murder of his ex-wife.
Roth stars as Alicia and her credits include Pedro Almodovar's All About My Mother, Natalia Meta's 2020 Berlinale selection and Argentinian thriller The Intruder. She won Goyas for All About My Mother, and Martin (Hache).
The cast includes Benjamin Amadeo, Miguel Ángel Solá, Sofía Gala Castiglione, Yanina Ávila, Marcelo Subiotto, Paola Barrientos, Diego Cremonesi, and Claudio Martínez Bel. Schindel and Pablo del Teso co-wrote the screenplay.
Netflix will launch the Buffalo Films and Magoya Films production on its platform worldwide on August 19.
Horacio Mentasti served as producer and FilmSharks head Guido Rud is among the executive producers alongside Hori Mentasti, and Esteban Mentasti.
Netflix brokered the deal with Rud, whose executive producer credits include Spanish 2019 comedy hit Father There Is Only One (Padre No Hay Mas Que Uno), which last year became Sony's biggest hit in Spain in eight years; Schindel's The Son, and the upcoming US adaptation of Paraguayan horror hit Morgue.