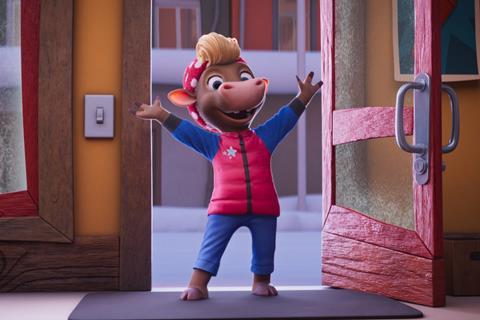 New Europe Film Sales has closed a deal for French rights to Norwegian animated feature Christmas At Cattle Hill to KLB.
As previously announced, Samuel Goldwyn Films acquired North American rights before EFM.
KLB has a strong history with animated titles, including Turu, The Wacky Hen (La Gallina Turuleca), Cinderella And The Secret Prince and The Snow Queen. The company plans the French release for Christmas 2021.
Christmas at Cattle Hill (Jul på KuToppen) directed by Will Ashurst, is a family animation sequel to the Norwegian box office hit Cattle Hill (2018), which was also sold by New Europe, and travelled to more than 40 territories.
Despite the pandemic, the sequel has already been a hit in its native Norway, scoring more than 100,000 admissions in late 2020 even when cinemas were at reduced capacity.
Qvisten Animation's Heidi Palm Sandberg and Ove Heiborg produce.
The story follows a young city cow named Klara, who will spend her first Christmas at her father's farm. When he has to leave to help a neighbour, Klara and a cheeky elf bring in the Christmas spirit.
Christmas At Cattle Hill is part of New Europe's KIDS label, which also includes family animations such as Gordon & Paddy, Jacob, Mimmi And The Talking Dogs and the original Cattle Hill.