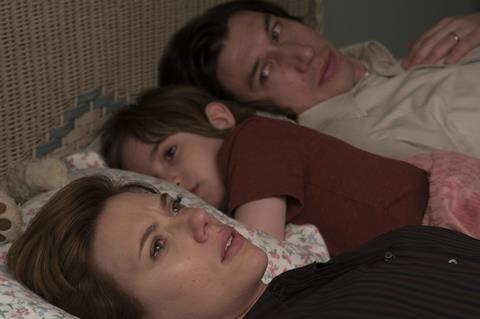 New York Film Festival (NYFF) has given a second prestige slot to a Netflix film, naming Noah Baumbach's Marriage Story starring Scarlett Johansson and Adam Driver as the centrepiece screening on October 4.
The film will receive its US premiere after the world premiere in Venice and marks another heavyweight selection for NYFF after it announced on Monday that Netflix's The Irishman from Martin Scorsese will open the festival on September 27.
Marriage Story will get a theatrical release and launch on Netflix at an unspecified point later this year. The film follows the tricky divorce between a New York experimental theatre director and his actor wife, as they try to remain amicable and take care of their 10-year-old son. Laura Dern, Alan Alda, Ray Liotta, Merritt Wever, Julie Hagerty, and Azhy Robertson also star.
"What amazed me about Marriage Story is the way that Noah keeps the many conflicting emotions between his characters flowing into and around and under and over each other, so beautifully that the film achieves the condition of music," said NYFF director and selection committee chair Kent Jones. "In fact, it actually flowers into song in two of the film's loveliest and most surprising moments. Marriage Story is a heartbreaker, it's very funny, and it has an emotional complexity that's worthy of Bergman."
The 57th NYFF presented by Film at Lincoln Center runs from September 27-October 13.