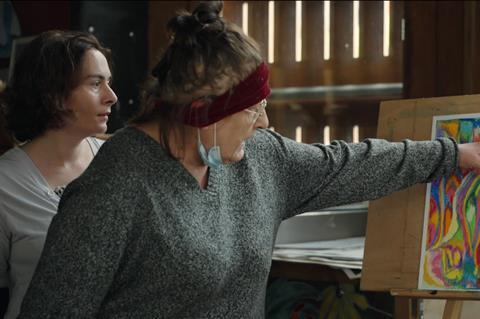 Nicolas Philibert's documentary On The Adamant, about a floating care centre in Paris, was awarded Golden Bear for best film at the Berlin International Film Festival tonight (February 25).
The film, which is being handled internationally by Les Films du Losange, is the fourth documentary to take top honours at the Berlinale.
German films found particular favour with the jury, presided over by Kristen Stewart, with no less than three of the Bear statuettes going to local productions: the Silver Bear Grand Jury award for Christian Petzold's Afire, best screenplay to Angela Schanelec for Music, and best supporting performance to the Austrian actress and trans-activist Thea Ehre for her role in Christoph Hochhäusler's Till The End Of The Night.
The other awards also focused exclusively on European productions with the Silver Bear Jury Prize going to Bad Living by Portugal's Joao Canijo and the Silver Bear for best director presented to veteran French director Philippe Garrel for The Plough.
The Silver Bear for best leading performance went to newcomer Sofia Otero for her first screen role as the eight-year-old Lucia in Basque director Estibaliz Urresola Solaguren's feature debut 20,000 Species of Bees, and the Silver Bear for outstanding artistic contribution went to Hélène Louvart for her cinematography on Giacomo Abbruzzese's Disco Boy.
The international jury also featured Iranian-French actor Golshifteh Farahani, German filmmaker Valeska Grisebach, Romanian filmmaker Radu Jude, US casting director and producer Francine Maisler, Spanish filmmaker Carla Simón and Hong Kong filmmaker Johnnie To.
Encounters
The jury for the Encounters competition, which was launched in 2020 by artistic director Carlo Chatrian, gave its award for best film to Here by Belgian filmmaker Bas Devos which was also recognised by the Fipresci jury of international critics as the best film in the Encounters section.
The award for best director went to Mexican filmmaker Tatiana Huezo for her documentary The Echo which also received the €40,000 documentary award from the documentary jury which this year included writer-director Mark Cousins and Nyon's artistic director Emilie Bujés.
The special jury award was presented ex aequo to Luis Patiño's Samsara and Paul Preciado's Orlando, My Political Biography.
Trans non-binary writer-philosopher Preciado's directorial debut lso picked up a special mention from the documentary jury as well as the Tagespiegel Readers' jury award and the Teddy award for best documentary/essay film
Meanwhile, the German collection society GWFF's best first feature award with a cash prize of €50,000 went to Leandro Koch and Paloma Schachmann's documentary The Klezmer Project which had premiered in the Encounters competition.
Competition
Golden Bear for Best Film - On The Adamant (Fr-Jap), dir. Nicolas Philibert
Silver Bear Grand Jury Prize – Afire (Ger), dir. Christian Petzold
Silver Bear Jury Prize – Bad Living (Port-Fr), dir. João Canijo
Silver Bear for Best Director – Philippe Garrel, The Plough (Fr-Switz)
Silver Bear for Best Leading Performance – Sofía Otero, 20,000 Species of Bees (Sp)
Silver Bear for Best Supporting Performance – Thea Ehre, Till the End of the Night (Ger)
Silver Bear for Best Screenplay – Angela Schanelec, Music (Ger-Fr-Serb)
Silver Bear for Outstanding Artistic Contribution – Hélène Louvart for the cinematography in Disco Boy (Fr-It-Pol-Belg)
Encounters
Best Film - Here (Belg), dir. Bas Devos
Best Director - Tatiana Huezo, The Echo (Mex-Ger)
Special Jury Award (ex aequo) - Samsara (Sp), dir. Lois Patiño and Orlando, My Political Biography (Fr), dir. Paul B. Preciado
Generation
Kplus
Crystal Bear – Sweet As (Australia), dir. Jub Clerc
Special mention – Sea Sparkle (Belg-Neth), dir. Domien Huyghe
Grand Prix – She – Hero (Slovakia), dir. Mira Fornay
Special mention – Longing For The World (Switz), dir. Jenna Hasse
14plus
Crystal Bear – Adolfo (USA-Mex), dir. Sofía Auza
Special mention – And The King Said, What a Fantastic Machine (Swe-Den), dirs. Axel Danielson, Maximilien Van Aertryck
Grand Prix – Hummingbirds (USA), dirs. Silvia Del Carmen Castaños, Estefanía "Beba" Contreras
Further awards
Teddy awards
Best feature - All The Colours of the World Are Between Black And White (Nig), dir: Babatunde Apalow
Best documentary - Orlando, My Political Biography (Fr), dir: Paul B. Preciado
Jury award - Silver Haze (UK-Neth), dir: Sacha Pola
Special award - Andriy Khalpakhchi and Bohdan Zhuk of Kyiv's Molodist International Film Festival.
Fipresci prizes
Competition - The Survival Of Kindness (Aus), dir: Rolf de Heer
Encounters - Here (Bel), dir: Bas Devos
Panorama - The Quiet Migration (Den), dir: Malene Choi
Forum - Between Revolutions (Rom-Cro-Iran), dir: Vlad Petr
Europa Cinemas Label
The Teachers' Lounge (Ger), Dir: İlker Çatak
Panorama audience awards
Best feature - Sira (Burk Faso-Fr-Ger-Sen), dir: Apolline Traoré
Best documentary - Kokomo City (US), dir: D Smit
Prizes of the independent juries
Amnesty International film award - The Burdened (Yem-Sud-S Ara), dir: Amr Gamal
Prizes of the ecumenical jury
Competition - Tótem (Mex-Den-Fr), dir: Lila Avilé
Panorama - Midwives (Fr), dir: Lea Fehne
Forum - Where God Is Not (Fr-Switz), dir: Mehran Tamado
Special mention - On The Adamant (Fr-Jap), dir: Nicolas Philibert
Prizes of the guild of German arthouse cinemas & AG Kino Gilde prize
Competition - 20,000 Species Of Bees (Sp), Dir: Estilbaliz Urresola Solaguren
Generation 14plus - And The King Said, What A Fantastic Machine (Swe-Den) - dirs: Axel Danielson and Maximilian Van Aertryck
CICAE Arthouse Cinemas award
Panorama - The Teachers' Lounge (Ger), dir: İlker Çatak
Forum - The Face Of The Jellyfish (Arg), dir: Melisa Liebentha
Perspektive Deutsches Kino awards
Compass-Perspektive award - Seven Winters In Tehran, dir: Steffi Niederzoll