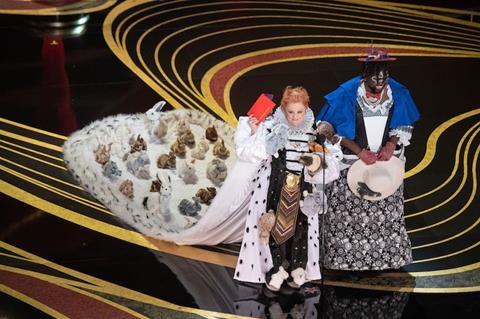 The first host-less Oscars ceremony in 30 years passed without major incident on Sunday (February 24), with multiple presenters giving the show a quick pace and friendly, low-key tone.
The rolling presenters did not delay the length of the show, which came in around three hours and 15 minutes, satisfying the Academy's need to keep it as brief as possible to secure viewing figures.
A succession of presenters introduced each individual award and the eight best picture nominees, beginning with Tina Fey, Amy Poehler and Maya Rudolph presenting best supporting actress, won by Regina King.
Before the award they made a series of quips, with Rudolph referencing the Academy's scheduling troubles and President Donald Trump's divisive border wall: "There is no host tonight, there will not be a popular film category and Mexico is NOT paying for the wall."
Online reaction to the trio was positive, with many wondering why they were not hosting the whole ceremony. Fey and Poehler previously hosted the Golden Globes on three occasions, between 2013 and 2015.
In presenting best cinematography – won by Alfonso Cuarón – Tyler Perry also noted the Academy's U-turn on cutting the award from the live telecast, saying "It is a true honour for me to present this award live on camera and not during the commercial break, thank you Academy!"
Most presenters introduced their awards with minimal fanfare, with a notable exception being Melissa McCarthy and Brian Tyree Henry, who dressed up as extravagant versions of The Favourite's Queen Anne and Mary Poppins respectively to present best costume design to Ruth E. Carter for Black Panther.
The theme of diversity was emphasised by several presenters, with both foreign language award co-presenter Javier Bardem and Diego Luna, introducing ROMA, making part of their introduction in their native Spanish tongue.
The downside to the rolling format was that many presenters had minimal time and words on stage. Tennis star Serena Williams made a brief introduction for A Star Is Born; while Frances McDormand referenced her emphatic speech at last year's awards by presenting best actor alongside Sam Rockwell, but refusing to add a comment – a moment intended as a joke, but rather missing an opportunity to hear again from the two-time best actress winner.
With no presenter skits this year, the performance of four of the five best song nominees took greater prominence, with a tender, emotional rendition of eventual winner 'Shallow' by Lady Gaga and Bradley Cooper providing a highlight of the show.
The show ended with the same low-key tone it had maintained throughout, with best picture presenter Julia Roberts giving the sign-off.