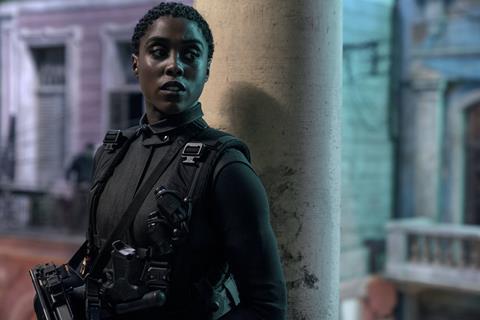 Worldwide box office October 29-31
| Rank | Film (distributor) | 3-day (World) | Cume (World) | 3-day (Int'l) | Cume (Int'l) | Territories |
| --- | --- | --- | --- | --- | --- | --- |
| 1. | No Time To Die (Uni) | $59.7m | $605.7m | $51.9m | $472.4m | 73 |
| 2. | Dune (Warner Bros) | $36.9m | $292.1m | $21.4m | $222.7m | 76 |
| 3. | Venom: Let There Be Carnage (Sony) | $27.1m | $395.5m | $21.4m | $205.4m | 54 |
| 4. | The Battle at Lake Changjin (various) | $19m | $844.9m | $19m | $844.9m | 1 |
| 5. | Halloween Kills (Uni) | $16.6m | $115.1m | $8.1m | $29.4m | 64 |
Credit: Comscore, all figures estimates
China opening boosts 'No Time To Die'
UPDATED: Universal and MGM's No Time To Die arrived in China at the weekend, grossing $28.3m – the third biggest opening for a US studio film this year, behind Fast & Furious 9 and Godzilla Vs Kong. (See China box office report).
The China number helped the Bond film achieve a confirmed $60.6m for the weekend period ($52.9m for international and $7.6m in North America), returning the film to the top of the worldwide box office chart. Totals to date are $473.5m for international, $133.2m in North America and $606.6m globally.
Among holdover markets, UK/Ireland reasserted itself, having grossed less than Germany the previous weekend. Weekend totals were a respective $4.8m and $4.7m, and cumulative totals in the film's two top international markets are now $116.5m and $62.1m.
No Time To Die is now the sixth highest-grossing film of all time in UK/Ireland, surpassing both Titanic and Star Wars: The Last Jedi during the last week. It's the first film ever to gross at least £1m ($1.37m) every day for 30 consecutive days in the territory – beating the previous record of 24 days jointly held by Skyfall, Mamma Mia! and Star Wars: The Force Awakens.
Holds were relatively strong in holdover markets, dropping 33% overall. France saw strong uplift from holidays, dropping just 15% from the previous weekend. UK/Ireland likewise benefited from the half-term holiday, with a slim 25% drop.
With $606m, No Time To Die has now reached 69% of Spectre's lifetime global total of $881m, and 55% of Skyfall's $1.11bn tally. The film should receive another boost when it releases in Australia on November 11.
'Last Night In Soho' starts with disappointing $6.5m
While Universal can celebrate the continued success of No Time To Die, news was less positive for the release of Edgar Wright's genre melder Last Night In Soho.
In North America, the film landed in seventh place, with $4.2m from 3,016 theatres – beaten by fellow new release, FUNimation Entertainment anime My Hero Academia: World Heroes' Mission, which grossed $6.4m from a more focused 1,581 venues.
For international, the numbers were weaker – although Last Night In Soho has so far released in only 19 territories outside North America. Weekend estimate was $2.3m for international, combining with North America for $6.5m globally and 10th place in the worldwide chart.
UK/Ireland led the way in international markets, with a confirmed $1m, ahead of France ($279,000), Mexico ($251,000), Saudi Arabia ($179,000) and Hong Kong ($116,000). Last Night In Soho was the top new opener in UK/Ireland, with almost three times the takings of fellow new release Antlers – but landed in a rather disappointing eighth place in the territory's chart.
The numbers compare with a $4.5m opening (including previews) for Wright's last fiction feature Baby Driver (2017) in UK/Ireland, and $2.79m in France.
More positively for the film, there are many key territories yet to release – including Italy, Germany, Brazil, Australia, Spain and Russia/CIS (all this month) plus South Korea and Japan (in December).
Baby Driver grossed $107.8m in North America, $119.1m for international and $226.9m worldwide.
Fresh territory openings boost 'Dune'
UPDATED: With no new markets releasing Dune at the weekend, the Warner Bros and Legendary release ceded its global box office crown to No Time To Die. The film grossed a confirmed $23m in 75 international markets at the weekend (down 54%), and $15.4m in North America (down 62%).
Totals are $224.2m for international, $69.6m in North America and $293.8m worldwide. Excluding China, the international drop was just 34%. France, where Dune is now in its seventh week of release, saw takings rise by 3% from the previous session. In South Korea, where restrictions on cinemas ease from today (November 1), the drop was a mild 14%.
In cumulative totals, top international markets for Dune are China ($33m), France ($29m), Russia/CIS ($21m), Germany ($20m) and UK/Ireland ($18.1m).
Warner Bros has been using its own Tenet as a box office comparison point – and Dune has been performing equivalently with the Christopher Nolan film in like-for-like international markets. In North America, Dune is already ahead of Tenet's lifetime total of $58.5m. Globally, Dune has already reached 80% of Tenet's $364m lifetime total. There are still a few markets yet to release, notably including Australia on December 2.
'Venom: Let There Be Carnage' closes in on $400m
Sony's Venom: Let There Be Carnage was level with Dune in the international rankings with estimated weekend takings of $21.4m. Add in $5.8m for North America, and that delivers a weekend number of $27.2m worldwide – and third place in the weekend chart. Global total is a robust $396m.
The original Venom film grossed a hefty $856m worldwide in 2018, including $269m for China. Let There Be Carnage has yet to confirm a release slot for China, and a release there would potentially transform the global outcome.
Other key territories yet to release the film are Australia (November 25) and Japan (December 3).
'Halloween Kills' hits $115m on Halloween weekend
UPDATED: Fresh openings in 11 new markets helped boost Universal's Halloween Kills at the weekend, which grossed $9.5m from 63 international territories and $8.7m in North America. Totals so far are $30.8m for international, $85.9m in North America, and $116.7m worldwide.
Top new markets were Australia ($1.1m) and Japan ($290,000). Germany ($1.5m) was the top international holdover market and has produced $3m after two sessions, with the Halloween holiday helping box office rise by 2% in the film's second session. UK/Ireland saw strong midweek numbers last week during the school half-term holiday, while the weekend was just 13% down on the previous session. UK/Ireland is the top international market cumulatively, with $6.2m after three weekends of play. France has generated $2.1m after two.
David Gordon Green directs this sequel to his own 2018 franchise reboot Halloween, which achieved $159.3m in North America, $96.3m for international and $255.6m worldwide.