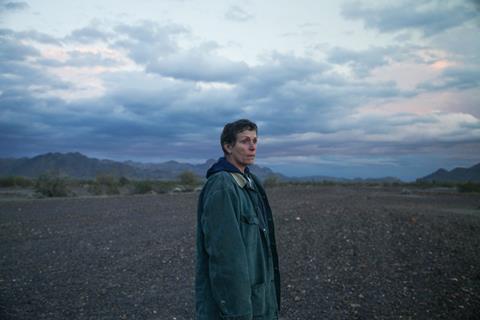 Nomadland was voted best picture by The National Society Of Film Critics winners on Saturday (January 9) and won four prizes overall, including director for Chloé Zhao, whose The Rider was named best picture three years ago.
The film about the existence of a modern-day nomad drifting through the margins of American society earned 52 points in the group's weighted ballot system, two ahead of Kelly Reichardt's period tale First Cow, and 11 ahead of Eliza Hittman's abortion drama Never Rarely Sometimes Always.
Nomadland also earned the actress award for Frances McDormand, and cinematography honours for Joshua James Richards.
Delroy Lindo won the actor prize for Vietnam War drama Da 5 Bloods, five points ahead of the late Chadwick Boseman for the blues music drama Ma Rainey's Black Bottom, with Riz Ahmed placing third for his role as a drummer who goes deaf in Sound Of Metal.
Paul Raci won the supporting actor category for Sound Of Metal, with Boseman third for Da 5 Bloods.
Maria Bakalova from comedy Borat Subsequent Moviefilm was named best supporting actress, while Eliza Hittman won screenplay for Never Rarely Sometimes Always.
Alexander Nanau's Romanian health system exposé Collective won best foreign-language film (Beanpole and Bacurau tied for second place) and placed third in the nonfiction category behind winner Time, Garrett Bradley's story of a woman fighting to get her incarcerated husband released from prison.
The full list of winners appears below.
Best picture
1. Nomadland – 52
2. First Cow – 50
3. Never Rarely Sometimes Always – 41

Best actor
1. Delroy Lindo (Da 5 Bloods) - 52
2. Chadwick Boseman (Ma Rainey's Black Bottom) – 47
3. Riz Ahmed (Sound Of Metal) - 32
Best actress
1. Frances McDormand (Nomadland) – 46
2. Viola Davis (Ma Rainey's Black Bottom) – 33
3. Sidney Flanigan (Never Rarely Sometimes Always) - 29
Best supporting actress
1. Maria Bakalova (Borat Subsequent Moviefilm) – 47
2. Amanda Seyfried (Mank) - 40
3. Youn Yuh-jung (Minari) - 33

Best supporting actor
*1. Paul Raci (Sound Of Metal) – 53
2. Glynn Turman (Ma Rainey's Black Bottom) – 36
3. Chadwick Boseman (Da 5 Bloods) – 35

Best director
*1. Chloé Zhao (Nomadland) – 58
2. Steve McQueen (Small Axe) – 41
3. Kelly Reichardt (First Cow) – 30

Best screenplay
1. Never Rarely Sometimes Always (Eliza Hittman) – 38
2. First Cow (Jon Raymond and Kelly Reichardt) – 35
3. I'm Thinking Of Ending Things (Charlie Kaufman) - 29
Best nonfiction Film
1. Time – 46
2. City Hall – 28
3. Collective - 22
Best cinematography
1. Nomadland (Joshua James Richards) - 47
2. Lovers Rock (Shabier Kirchner) - 41
3. Vitalina Varela (Leonardo Simões) – 34

Best Foreign-Language Film
1. Collective – 38
2. = tie for Beanpole and Bacurau – 36
Film Heritage Award
Women Make Movies: "since the 1970s, has been releasing daring and distinctive female-directed movies that more conventional distributors wouldn't touch".
Film Comment: "founded in 1962 and currently on hiatus, which has long been the most substantial and wide-ranging American film magazine".

The Brattle Theatre, Cambridge, Massachusetts: "among America's premier repertory houses, showing arthouse movies steadily since 1953, and holding strong in continuing the time-honored tradition of daily double features".
In a statement, the group said, "We dedicate this meeting to our beloved friend and colleague William Wolf, who died in April of COVID-19. Bill was a longtime NSFC member whose career spanned Cue and New York magazines as well as his online Wolf Entertainment Guide. We miss him dearly."
Justin Chang chairs the group, which comprises 60 US critics and met online, using a weighted ballot system. The group considered any film that opened in the US on screen or streaming platforms in 2020.