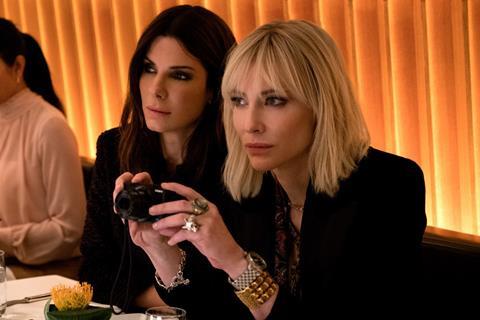 | Rank | Film / Distributor | Weekend Gross (Fri-Sun) | Running Total | Week |
| --- | --- | --- | --- | --- |
| 1 | 'Jurassic World: Fallen Kingdom' | £3.2m | £31.2m | 3 |
| 2 | 'Ocean's 8' | £2.3m | £4.3m | 1 |
| 3 | 'Hereditary' | £834k | £3.6m | 2 |
| 4 | 'Deadpool 2' | £450,000 | £31.5m | 6 |
| 5 | 'Solo: A Star Wars Story' | £375,000 | £18.7m | 5 |
Further distributors to follow.
Warner Bros
Sunny weather and the World Cup football tournament made for a slow weekend at the UK box office.
Ocean's 8 was the only major new studio release, topping the weekly chart thanks to four days of previews - it opened on Monday June 18.
Its three-day weekend total was £2.3m which, added to the £2m it garnered from Mon-Thurs, took it to £4.3m to date.
Sandra Bullock and Cate Blanchett lead the cast of this heist caper. Steven Soderbergh's Ocean's Eleven is the highest grossing entry in the franchise so far, making £5.1m on its opening weekend in the UK in 2002, grossing £26.5m in total.
Universal
Jurassic World: Fallen Kingdom topped the weekend chart with £3.2m, a drop of 55%. J.A. Bayona's family sequel is now up to £31.2m after three weeks but it is a long way off its predecessor's £74.7m final total.
Entertainment Film Distributors
Well-reviewed Sundance horror Hereditary dropped to third place, making £834k from 535 screens on its second weekend, a drop of 47%. The Toni Collette-starrer is now up to £3.6m.
20th Century Fox
In its sixth weekend Deadpool 2 dropped 48% to £450,000, taking it to a total gross of £31.5m to date. This is around £6m shy of the original's final UK total (£38.1m).
After a soft debut last week, comedy sequel Super Troopers 2 added £19,000 for a cume of £184,000.
Disney
Solo: A Star Wars Story dropped 62%, grossing £375,000 over the weekend to take it to a total of £18.7m.
Avengers: Infinity War added an extra £185,000 to gross £70.5m to date.
Paramount
Animation Sherlock Gnomes now has a total gross of £8.3m after adding £178,000 this weekend. The romantic comedy Book Club, starring Diane Keaton, grossed £161,000 to take it to a gross of £3.6m after four weeks on release.
Lionsgate
Rupert Everett's Oscar Wilde biopic The Happy Prince expanded from 34 to 155 cinemas this week, adding £150,942 over the weekend. It has grossed £317,627 so far.
Documentary McQueen grossed £43,000 and now has a UK gross of £463,000.
Yash Raj
After its impressive debut last week, Bollywood thriller Race 3 dropped a sizeable 85% to gross £112,000 over the three-day weekend. Nonetheless this still pushed it past the million mark for a non-final cume of £1m.
Trafalgar
The event cinema release of Puccini opera Madama Butterfly from the 2018 Glyndebourne Festival earned £92,000 from 108 locations for a screen average of £860.
Vertigo
Comedy remake Overboard, which sees Eugenio Derbez and Anna Faris reverse the Kurt Russel/Goldie Hawn roles from the 1987 version, opened to £19,000 from 21 sites.