A young South African man struggles to hide his homosexuality in 1980s military service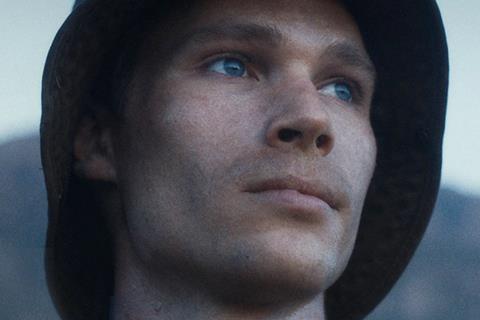 Dir. Oliver Hermanus. South Africa/UK. 2019. 103 mins.
South African drama Moffie is an altogether intense experience that often feels as punishing for the viewer as it is for the characters. Based on the fictionalised memoir by André-Carl van der Merwe, this depiction of a young gay man's army training lays bare the ideology and the ruthless mechanisms of apartheid, as applied to the young white males tasked with implementing it. It is also an unsparing analysis of institutionalised homophobia, 'moffie' being a derogatory term for gay men.
Kai Luke Brummer makes a magnetic centre, convincingly depicting Nick's passage from shy novice to tested soldier
The film marks a triumphant return to forceful form from South African director Oliver Hermanus, after the more oblique narrative experiment of ensemble thriller (and 2015 Venice competition title) The Endless River. This powerful, ambitious film is likely to outdo the director's earlier Shirley Adams (2009) and Cannes Queer Palm winner Beauty (2011) in terms of international exposure.
The time is 1981, with 18-year-old Nicholas van der Swart (Kai Luke Brummer) bidding goodbye to his family before reporting for the army conscription then mandatory for young white South African males. His Afrikaner stepdad is bullish about what awaits the boy, while his divorced father quietly gives Nick a straight porn mag as 'ammunition', as if knowing he'll need it to protect him. As Nick heads off on a train journey to boot camp, this sensitive young man looks lost among the aggressive machismo that surrounds him, but bonds en route with another recruit, Sachs (Matthew Vey), who proves to have a more than sceptical attitude to the ideology that's drummed into the men.
Prior to being stationed on the border of Angola, to confront what they're constantly told is the black Communist threat to the mother country, Nick's platoon experiences unforgiving basic training under the command of Sergeant Brand (a terrifying but utterly realistic performance by Hilton Pelser). He plays this martinet as coldly efficient, in stark distinction to the grotesque but characterful depictions that have often made such figures perversely charismatic – the most obvious comparison being R. Lee Ermey in Kubrick's Full Metal Jacket.
During one exercise, Nick finds himself sleeping close to fellow recruit Stassen (Ryan de Villiers), and the two clearly feel a strong mutual attraction. But homosexuality is regarded as a crime against the nation and God, and men suspected of being gay are viciously humiliated – as in a scene where the platoon is ordered to chant "Moffie! Moffie!" at one victim – and brutalised, not least at the much-feared facility known as Ward 22. In this environment, Nick learns to survive by keeping his sexual identity invisible.
The film's extensive depiction of boot camp instantly sparks comparisons with Full Metal Jacket – something Hermanus acknowledges by having his soldiers sing an Afrikaans version of its famous drill chant. It also echoes that film in eventually following its men into combat, although the climactic patrol sequence here is brief and tightly focused. A long flashback to his childhood, executed in a complex extended take, further illustrates the intensity of the homophobia he has grown up among.
This sequence, set at a whites-only country club, sees Hermanus put his cards on the table about the fact that this depiction of apartheid focuses on a white character from a privileged background. The homophobia shown is, of course, wholly congruent with the racial oppression that the young soldiers are made to serve. But the concrete violence of apartheid is brought home very starkly when the young recruits on the train harass a solitary black man on a railway platform. That Hermanus is able, subsequently, to portray these young white men as human, vulnerable, even sympathetic, is a sign of the moral seriousness and subtlety of his approach.
An extraordinary young ensemble cast, predominantly newcomers, give their all, not least in the training sequences which look authentically rigorous, both physically and emotionally. Alongside outstanding performances by de Villiers and Vey, Kai Luke Brummer makes a magnetic centre, convincingly depicting Nick's passage from shy novice to tested soldier, and the cost of that graduation.
Jamie D. Ramsey's photography captures the claustrophobic austerity of the soldiers' world, while Braam du Toit's often mesmerising score – centred on nerve-scrapingly spare strings – is complemented by more familiar, contemplative classical passages (Bach, Vivaldi, Charles Ives). There's subtle allusion also to 'Sugar Man', the song by US artist Rodriguez, whose work was a rallying point for South African counter-culture and anti-apartheid feeling in the 70s and 80s.
Production company: Portobello Productions
International sales: Portobello Film Sales, sales@portobellofilmsales.com
Producers: Eric Abraham, Jack Sidey
Screenplay: Oliver Hermanus, Jack Sidey, based on the book by André-Carl van der Merwe
Cinematography: Jamie D. Ramsay
Editors: Alain Dessauvage, George Hanmer
Production design: Franz Lewis
Music: Braam du Toit
Main cast: Kai Luke Brummer, Ryan de Villiers, Matthew Vey, Stefan Vermaak, Hilton Pels