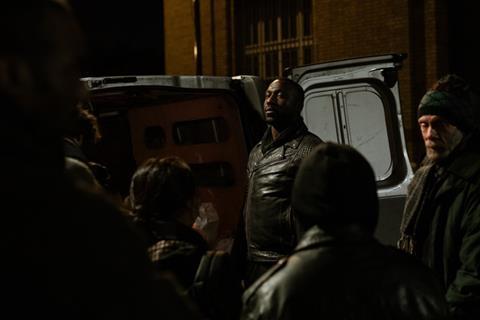 France's Orange Studio will kick off sales this EFM on French director Sophie Boudre's intergenerational comedy-drama Schoolmates!, the latest production from Paris-based Vendôme Production, the company behind La Famille Bélier and English-language remake CODA.
Based on a true story, popular comedy actress Alice Pol co-stars as a village school headmistress whose school burns down forcing her to move her classroom into a local retirement home. Cohabitation between the children and seniors will not be easy. Jonathan Zaccaï and veteran French pop icon Eddy Mitchell also top the cast.
A joint production between Orange Studio, the film and TV arm of French telecoms group Orange, and Vendôme, the feature is currently shooting in the Paris region.
"It's a topical, intergenerational story that people will relate to the world over," commented Orange Studio sales director Daniel Marquet.
It one of four new titles on Orange Studio's EFM line-up which Marquet describes as "a wide palette".
The company will also launch sales on Steve Achiepo's 2011-set social drama Slumlord.
Moussa Mansaly stars as a French-Ivorian delivery driver who falls into the role of slum landlord in an outer Paris suburb after he agrees to clandestinely house relatives who have fled a violent political crisis in the Ivory Coast. The cast includes Mektoub: My Love co-star Ophélie Bau and Aïssa Maïga.
Orange Studio has released the first image for the drama [pictured above] which is currently shooting. "It's a socially-engaged drama, with a real message, which we hope will enjoy a festival career," comments Marquet.
It is lead-produced by Barney Production, which was at Venice last year Horizons title Zanka Contact. The Jokers is on board as a co-producer and has also taken French distribution rights.
The slate also includes Somali-born Finnish director Khadar Ahmed's drama The Gravedigger starring Canadian-Somali model Yasmin Warsame and Finnish-Somali actor Omar Abdi as a devoted couple living in poverty in Djibouti City in the Horn of Africa.
Abdi plays a low-paid gravedigger who turns to desperate measures to finance an operation for his beloved wife who is suffering from chronic kidney disease.
It produced by Finland's Bufo with France's Pyramide Productions and Germany's Twenty Twenty Vision. Orange Studio will release the film in France
The film was developed under the auspices of the Cannes Cinéfondation Residence programme and also won the €20,000 prize post-production prize at the Marrakech International Film Festival's Atlas Workshops industry event in 2019. It is currently in post-production.
"It's a magnificent, beautiful, sensitive film that we also expect to see heading to festivals," said Marquet.
He notes the taking on the world sales ofThe Gravedigger also fits with parent company Orange's push into Africa in recent years. "Orange has signalled its commitment to Africa and it's important for us to defend this film, it shows it's not just words."
Orange Studio will also market premiere farcical comic road movie Zaï Zaï Zaï Zaï starring Jean Paul Rouve, Julie Depardieu, Yolande Moreau and Ramzy Bedia.
Adapted from a popular graphic novel of the same name, it revolves around a man who goes on the run after a petty altercation with a security guard at his local supermarket is picked up by the media and becomes a national cause celebre. It is produced by 2425 Films and Orange Studio will release jointly in France with Apollo Film.