Inside the Asia-Pacific, Middle East, and African entries to this year's Foreign-Language Oscar race.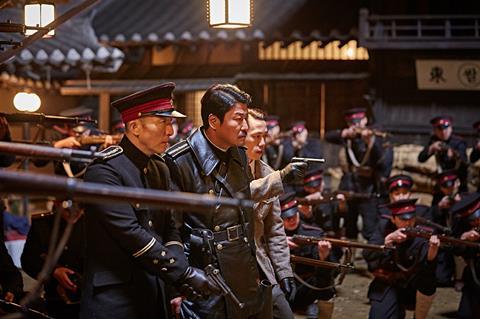 ASIA-PACIFIC
The Age Of Shadows (South Korea)
Dir Kim Jee-woon
Set in 1920s Seoul, this spy thriller chronicles a group of Korean resistance fighters battling the Japanese occupation. The film marks Warner Bros' first Korean-language production. Despite submitting films to the Academy Awards race since 1962, South Korea has never received a nomination in the foreign-language category.
Contact: Finecut cineinfo@finecut.co.kr
Amanat (Kazakhstan)
Dir Satybaldy Narymbetov
Satybaldy Narymbetov's Amanat is an epoch-spanning epic, set in the 19th and 20th centuries and filled with strong nationalist sentiment. Rising young actor Sanzhar Madiyev stars as dashing liberation hero Kenesary Khan. The film also deals with the fate of 20th-century political prisoner Ermukhan Bekmakhanov, who was punished for writing history books about Khan's achievements.
Contact: Kazakh Film Studios press@kazakhfilmstudios.kz
Apprentice (Singapore)
Dir Boo Junfeng
Premiering in the Un Certain Regard strand at this year's Cannes Film Festival, prison drama Apprentice depicts a young Malay correctional officer who becomes the assistant to the establishment's long-serving chief executioner - the same man who executed his father. If accepted, the film would be Singapore's first foreign language Oscar nomination.
Contact: Luxbox info@luxboxfilms.com
Beautiful Pain (Malaysia)
Dir Tunku Mona Riza
This family drama touches on the sensitive subject of autism and follows a couple struggling to come to terms with the special needs of their young son. Tunku Mona Riza's debut feature is only the fourth Malaysian film ever submitted to the foreign language Oscar category.
Contact: Current Pictures haris@currentpictures.com
Before The Fall (Cambodia)
Dir Ian White
In Australian director Ian White's 1970s-set thriller, Pauline Cammal plays a nightclub singer trying to escape Phnom Penh as the Khmer Rouge overtakes the city. Co-star Ian Virgo has appeared in Black Hawk Down and Band Of Brothers.
Contact: California Pictures monique@californiapicturesinc.com
The Black Hen (Nepal)
Dir Min Bahadur Bham
Nepalese film-maker Min Bahadur Bham's debut film won the International Critics' Week Fedeora Award for best film at Venice. Set in 2001, it portrays two young friends in a war-torn village in northern Nepal who embark on a journey during a fragile ceasefire to find their missing hen.
Contact: Wide Management info@widemanagement.com
A Father's Will (Kyrgyzstan)
Dirs Bakyt Mukul, Dastan Zhapar Uulu
Named best first feature at this year's Montreal World Film Festival, A Father's Will follows immigrant Azat as he returns from the US to his family village in Kyrgyzstan after his father's death. Paying off old debts, Azat meets an uncle who was once imprisoned because of his father.
Contact: Nika Zholdosheva inkinoveritas88@gmail.com
A Flickering Truth (New Zealand)
Dir Pietra Brettkelly
The fifth documentary from journalist-turned-filmmaker Pietra Brettkelly (Maori Boy Genius) looks at the restoration of a Kabul film archive destroyed by the Taliban and, in doing so, becomes a powerful portrait of Afghan history. After making its debut at Venice in 2015, when it was nominated for the Venezia Classici Award, the film has played across the international festival circuit.
Contact: Film Sales Company contact@filmsalescorp.com
Hang In There, Kids! (Taiwan)
Dir Laha Mebow
This lighthearted drama about three boys growing up in a mountain tribe is the second feature from Taiwan's first female aboriginal director, Laha Mebow. It walked away with five major prizes at Taipei this year and also won awards at Mumbai, Bucheon in South Korea and Giffoni in Italy.
Contact: Sky Films cs98h040@gmail.com
House Of Others (Georgia)
Dir Rusudan Glurjidze
The feature debut of commercial and video director Rusudan Glurjidze, the semi-autobiographical House Of Others takes place in the aftermath of the Georgian Civil War, when the conflict's winners were permitted to move into homes occupied by those who had been defeated. The drama won this year's East of the West competition at Karlovy Vary.
Contact: Tato Film o.yershova@gmail.com
Interrogation (India)
Dir Vetrimaaran
This 2015 Venice Horizons entry combines Tamil and Telegu language. M Chandrakumar's autobiographical novel Lock Up provides the source for this tale of four young Tamil men falsely accused of a house burglary in Andhra Pradesh and caught up in a brutal web of political and police corruption. India was last nominated in 2002 for Lagaan.
Contact: Wunderbar Films vinod.wunderbar@gmail.com
Karma (Thailand)
Dir Kanittha Kwunyoo
Horror tale Karma (also known as Arpat) centres on a 19-year-old man who becomes a monk after killing a girl in an accident and being confronted by her spirit. According to reports, the film was initially banned by Thai censors because of scenes that could be deemed offensive to Buddhism, but cuts were made to secure its release.
Contact: Sahamongkolfilm International gilbert@sahamongkolfilm.com
Letters From Prague (Indonesia)
Dir Angga Dwimas Sasongko
The repression that accompanied Suharto's seizure of power in Indonesia in 1965, which was recently put in the spotlight by documentarian Joshua Oppenheimer's The Act Of Killing, is spun into a prestige romantic drama here, complete with musical interludes. Centring on a group of Indonesian exiles, Letters From Prague is 31-year-old Angga Dwimas Sasongko's fifth feature.
Contact: Visinema Pictures angga@visinemapictures.com
Ma' Rosa (Philippines)
Dir Brillante Mendoza
Veteran Filipino director Brillante Mendoza's latest film played in Competition at Cannes, where it earned star Jaclyn Jose the best actress award. She stars as the titular Rosa, a desperate Manila resident arrested for selling narcotics to make ends meet. Mendoza and Joyce previously collaborated on 2008 Cannes Competition title Service (Serbis).
Contact: Films Distribution info@filmsdistribution.com
Mah E Mir (Pakistan)
Dir Anjum Shahzad
Marking Pakistan's sixth entry to the foreign language Oscar race, Mah E Mir is aiming to be the country's first nomination in the category. The film follows a contemporary poet who finds parallels between his life and the life of famous 18th-century poet Mir Taqi Mir. Sanam Saeed, Iman Ali, Aly Khan and Fahad Mustafa star.
Contact: Miraqsm Media www.mahemir.com
Nagasaki: Memories Of My Son (Japan)
Dir Yoji Yamada
Octogenarian auteur Yoji Yamada's 83rd film is a moving post-Second World War drama set in Nagasaki about a young man, killed in the atomic bombing, whose ghost visits his mother to find peace. Yamada's The Twilight Samurai was shortlisted in 2003, while Yojiro Takita's Departures remains the only Japanese film to win the foreign-language Oscar, in 2009.
Contact: Shochiku Co Ltd ibd@shochiku.co.jp
Port Of Call (Hong Kong)
Dir Philip Yung
This crime thriller is not a standard whodunit, but an investigation into the psyche of the killer and his young victim, and how society made them both so vulnerable. Toplined by superstar Aaron Kwok, Philip Yung's film collected seven Hong Kong Film Awards, including all the acting gongs, best director and best cinematography for Christopher Doyle.
Contact: Mei Ah Entertainment Group sara@meiah.com
Tanna (Australia)
Dirs Bentley Dean, Martin Butler
Documentary makers Bentley Dean and Martin Butler make their fiction feature debut with this 2015 Venice International Critics' Week Award winner, set on the titular Pacific isle. The film-makers enlisted Yakel tribe members to re-enact a real-life story of forbidden love that unfolded on the volcanic island in 1987.
Contact: Visit Films info@visitfilms.com
The Unnamed (Bangladesh)
Dir Tauquir Ahmed
Bangladesh-born film-maker Tauquir Ahmed's fourth feature looks at the country's ex-pat labourers, and the lengths some will go for new opportunities abroad. It stars Mosharraf Karim, who featured in Bangladesh's 2016 entry Jalal's Story and 2010 entry Third Person, and is produced by Impress Telefilm.
Contact: Montmatre Motion Pictures swapan.banglatv@gmail.com
Xuan Zang (China)
Dir Huo Jianqi
Huo Jianqi's biopic follows Chinese monk Xuanzang, known for bringing Buddhist scriptures to China from India, who embarks on a challenging 17-year overland journey during the Tang dynasty. This collaboration between China Film Group and India's Eros International is headlined by popular actor Huang Xiaoming, who plays the title role.
Contact: China Film Group lixiao@chinafilm.com
Yellow Flowers On The Green Grass (Vietnam)
Dir Victor Vu
Vietnamese-American director Victor Vu broke new ground with this 1980s coming-of-age drama about the rivalries between two brothers, an unusual theme for a Vietnamese film. It became last year's second highest-grossing local film and bagged major prizes at Vietnam Film Festival including the Golden Kite award.
Contact: Galaxy M&E trangvtt@galaxy.com.vn
AFRICA
Call Me Thief (South Africa)
Dir Daryne Joshua
In his debut feature, Daryne Joshua focuses on the life of screenwriter John W Fredericks, a petty criminal who used his storytelling skills to become a motivational speaker, warning teens about the perils of gang life and visiting South African prisons. South Africa won the Oscar in 2006 with Gavin Hood's Tsotsi.
Contact: Maxi-D Productions dmaxbrown@maxi-d-productions.com
Clash (Egypt)
Dir Mohamed Diab
The opening film of this year's Un Certain Regard section at Cannes, Diab's hard-hitting Clash is set against the backdrop of riots in Cairo at the end of Islamist President Mohamed Morsi's reign in 2013. It enjoyed a record-breaking opening week at the Egyptian box office and was publicly endorsed by Tom Hanks on social media.
Contact: Pyramide avalentin@pyramidefilms.com
A Mile In My Shoes (Morocco)
Dir Said Khallaf
Said Khallaf's debut feature won the Grand Prize at the 2016 Tangier National Film Festival, then played at Durban International Film Festival in South Africa. Described as both psychological thriller and social drama, A Mile In My Shoes offers insight into the lives of street children, telling the story of one particular child who takes revenge on society.
Contact: David Gil Productions gilfilms33@yahoo.com
The Well (Algeria)
Dir Lotfi Bouchouchi
Producer Lotfi Bouchouchi makes his feature directorial debut with this Algerian War of Independence drama, in which villagers must drum out an enemy of the occupying French army within their community or face deadly consequences. Nadia Kaci and Laurent Maurel star. If nominated, The Well would be the first Algerian foreign language Oscar nominee since 2010's Outside The Law.
Contact: Algerian Agency for Cultural Influence smail.mesbah@aarcalgerie.org
MIDDLE EAST
3000 Nights (Jordan)
Dir Mai Masri
Jordan's Oscar contender is based on the true story of a young, recently married Palestinian schoolteacher who is wrongfully arrested and imprisoned in an Israeli jail. She gives birth behind bars and struggles to raise her son in the bleak surroundings. Director Mai Masri (best known for her documentary work) has cited Steve McQueen's Hunger as one of her inspirations.
Contact: Intra Movies paola.corvino@intra.movies
Barakah Meets Barakah (Saudi Arabia)
Dir Mahmoud Sabbagh
Dubbed 'Saudi Arabia's first rom-com', writer-director Mahmoud Sabbagh's debut feature is about a couple dating in a society where public meetings are prohibited. It premiered at the Berlinale in February and played as a special presentation in Toronto. The film marks Saudi Arabia's second entry to the foreign language Oscar race, after Wadjda in 2013.
Contact: MPM Film info@mpmfilm.com
Cold Of Kalandar (Turkey)
Dir Mustafa Kara
Mustafa Kara's drama premiered at the 2015 Tokyo International Film Festival, where it won the best director and the WOWOW Viewer's Choice awards, and was recently released in its native Turkey. It tells of a young boy and his family who live in a mountain village, far away from modern life. Turkey has never had a film nominated for this category.
Contact: Karafilm Productions sadesinema@gmail.com
El Clasico (Iraq)
Dir Halkawt Mustafa
This drama stars real-life brothers Wrya and Dana Ahmed as two little people who go on a dangerous road trip to deliver a pair of Kurdish slippers to football superstar Cristiano Ronaldo. El Clasico is the sophomore feature from director Halkawt Mustafa, who previously made 2011's romantic drama Red Heart.
Contact: LevelK tine.klint@levelk.dk
I Am Nojoom, Age 10 And Divorced (Yemen)
Dir Khadija Al-Salami
Based on a real-life story, Yemen's first submission tells the hard-hitting tale of a 10-year-old girl struggling to obtain a divorce after she was married off to prevent a public scandal following the rape of her sister. The film won the Muhr Award for best fiction feature at the 2014 Dubai International Film Festival.
Contact: Wide Management infos@widemanagement.com
The Idol (Palestine)
Dir Hany Abu-Assad
Premiering at Toronto in 2015, The Idol stars Tawfeek Barhom as an aspiring musician living in Gaza who hopes to achieve his dream of competing on the TV talent show Arab Idol. Abu-Assad has now directed a third of Palestine's total Oscar submissions, and both his previous entries, Paradise Now (2005) and Omar (2013), have gone on to be shortlisted.
Contact: Séville International anickp@filmsseville.com
The Salesman (Iran)
Dir Asghar Farhadi
Oscar winner Asghar Farhadi's story of a couple whose relationship begins to turn sour during their performance of Arthur Miller's Death Of A Salesman premiered in Cannes this year. The hot seller for Memento won best actor for Shahab Hosseini and best screenplay for Farhadi (A Separation) on the Croisette.
Contact: Memento Films International sales@memento-films.com
Sand Storm (Israel)
Dir Elite Zexer
After earning top awards at the work-in-progress sections of the Jerusalem and Locarno film festivals, Zexer's Sand Storm triumphed at Israel's Ophir Awards, becoming the first entirely Arabic-language film to win best film at the ceremony. It follows a fiercely independent Bedouin girl whose headstrong nature puts her in difficult circumstances in her intimate community.
Contact: Beta Cinema beta@betacinema.com
Very Big Shot (Lebanon)
Dir Mir-Jean Bou Chaaya
This Lebanese crime thriller with a comic twist has enjoyed a successful run on the festival circuit, winning prizes in Marrakech and Beijing. Set in Beirut, Mir-Jean Bou Chaaya's debut follows a band of drug-smuggling brothers who swap a pizzeria for film production as the cover for their nefarious activities.
Contact: Front Row Filmed Entertainment info@frontrowent.ae