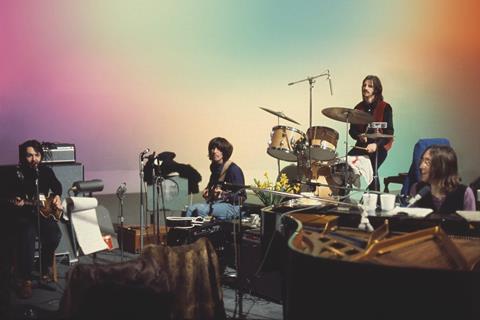 Peter Jackson's feature documentary about The Beatles will now be presented as a three-part series and will premiere exclusively on streaming platform Disney+.
The Beatles: Get Back was originally set for a theatrical release in August 2021 but will now be cut as three episodes of around two hours each, which will roll out on November 25, 26 and 27 on Disney+.
The documentary series has been compiled from more than 60 hours of unseen footage, shot in January 1969 by Michael Lindsay Hogg, as over 150 hours of unheard audio – all of which has been restored.
Jackson, the Oscar-winning filmmaker behind The Lord Of The Rings trilogy, is said to be the only person in 50 years to have been given access to the private film archives and has spent nearly three years on the project.
The footage follows John Lennon, Paul McCartney, George Harrison and Ringo Starr as they plan their first live show in over two years, capturing the writing and rehearsing of 14 new songs, originally intended for release on an accompanying live album. The documentary features – for the first time in its entirety – The Beatles' last live performance as a group, the rooftop concert on London's Savile Row, as well as other songs and compositions featured on the band's final two albums, Abbey Road and Let It Be.
The collaboration between The Beatles and Jackson is backed by The Walt Disney Studios in association with Apple Corps and WingNut Films Productions. It is produced by Clare Olssen and Jonathan Clyde, with Ken Kamins and Apple Corps' Jeff Jones serving as executive producers.
Jabez Olssen, whose credits include Rogue One: A Star Wars Story, is the documentary's editor the music is mixed by Giles Martin and Sam Okell.