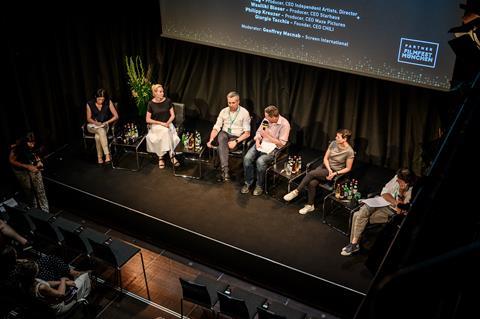 European producers were divided over how to position themselves in the new landscape created by the move into localised original production by the US streaming platforms in a panel called 'Euroflix? On the road to strong (T)VOD competitors in Europe' at the Munich Film Festival on Friday (June 28).
Under the so-called 'Netflix quota', platforms including Netflix and Amazon as well as premium cable channels such as HBO, broadcasters, as well as Facebook. Apple and YouTube, will be required by EU law to ensure 30% of their on-demand programming is reserved for European films and TV by the end of 2020. They can reach their targets by commissioning local content, acquiring product from local producers, or by contributing to national film funds.
"For me, the new platforms are not a competition. I don't know why people, especially German TV commissioning editors, are responding in total panic," said Wasiliki Bleser, CEO of Munich-based production company Starhaus (The Girl King, The Wall).
She compared the alarm within the European film industry about VOD giants to the disquiet felt when VHS was initially viewed as a terminal threat to the movie business.
"Now, I think it is time to strengthen diversity and to create a European answer [to the US streaming giants] that is on the same eye level," added director-producer Feo Aladag of Berlin-based Independent Artists, whose 2010 feature When We Leave had notable success on iTunes as well as in cinemas.
"[The platforms] want to sell subscriptions in our market. That means they are taking money out of our market. It comes also with certain obligations," said Philipp Kreuzer, CEO of Maze Pictures and producer of Rupert Everett's The Happy Prince, of the 30% quota system. "[The EU quota] is also in their interest. The platforms need local productions to sell their subscriptions."
One key question for filmmakers as pressure on windows intensifies is how willing they are to bypass the theatrical release in order to facilitate deals with the platforms.
"As a filmmaker, we should all be able to make films for all kinds of distribution channels," Aladag said. However, she acknowledged a certain discomfort about the lack of transparency of some of the platforms. "We just don't know who is watching what and why, or how many of them are watching and where. It's very different to cinema."
But she added the trade-off for filmmakers in working with the streaming platforms is gaining access to a far wider potential audience than they would have reached through cinemas alone.
Re-alignment of the studio system
The panel was sponsored by Chili, the Italy-based company aiming to create Europe's leading TVOD [pay-per-view] company. Already Italy's number one non-subscription entertainment company, it launched in the UK last year and has an overall customer base of three million.
Chili, which operates on a revenue share basis, is also now active in Germany, Austria and Poland. Paramount Pictures, Sony Pictures Entertainment, 20th Century Fox (now owned by Disney), Viacom and Warner Bros are among its shareholders.
Giorgio Tacchia, founder and CEO of Chili, predicted a realignment of the Hollywood system – and the potential for the TVOD market to grow as a result.
"What will happen is that we will have six major studios, [including] new ones - Warner, Disney, Universal, Apple, Amazon and Netflix. These will be the new studios, direct to consumer, with an SVOD offer in the region between $6 and $15 a month," Tacchia forecasted. "No one will be focusing on TVOD. This will open up an incredible marketing opportunity."
New platforms
The German producers on the Munich panel offered a downbeat assessment of a German independent production industry in which little funding is available for development and producers are often forced to rush films into production simply to pay their overheads.
They feared the VOD companies will relegate them to a "service" role on the projects they commission. The producers will be paid a fee to make their film or series for the platforms but will retain none of the underlying rights.
Earlier this year, the German Producers' Association launched TVOD platform KinoHerz, a non-exclusive "additional" revenue-sharing window which showcases new work from independent German filmmakers and gives producer members access to all the data about consumer behaviour.
"It's not as if we are in the business to compete with Netflix, Amazon or even Chili. It's really us, the rights holders, who are bringing the movies out there," Kreuzer said.
He forecasts a period in which many other small platforms will start to emerge. "Obviously, people will have their one or two big platform subscriptions with Netflix or Amazon but there is always room for something else. I think the consumers are clever enough, if they know about a movie, to find it. This is where the festivals come in and the reviews come in. To incentivise the demand, that is our challenge."