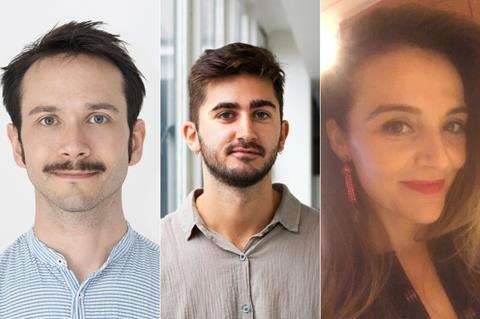 London-based international sales, production and finance company Protagonist Pictures, whose titles include Censor and Venice's Official Competition, has restructured its team, with three new appointments and a slew of promotions.
Alexis Hamaide joins as marketing manager from L'Avventura Studio in Paris, former Carnaby International and WestEnd Films exec Jonathan Walik has been appointed sales executive and Isabel Ivars, who has previously worked at Wide Management and Films Boutique is the new library and festivals manager.
"Our new roles reflect the shifting landscape of film financing and Jonathan, Isabel and Alexis' extensive experience with the kind of prestigious yet highly commercial films that are synonymous with the Protagonist sales slate, make them the perfect complement to our team," said CEO Dave Bishop.
Additionaly, former head of sales George Hamilton is now chief commercial officer, Janina Vilsmaier has been promoted to the head of sales and diector of marketing Mounia Wissinger is now head of marketing, distribution and publicity. Sales assistant Alexandra da Silva has been made sales coordinator.
Further promotions include James Pugh to COO, Anne-Lise Fernandez to head of operations and post-production and Emma Kinnersley to finance director.
Fresh blood
Walik previously held sales positions at Carnaby International and WestEnd Films, where he oversaw international distribution on a range of titles including Mr Jones, Gun Shy and The Young Offenders. Walik will be responsible for key territories including Asia, Middle East, CIS and Baltics and South Africa and will report to head of sales Vilsmaier.
Ivars was a sales agent with Paris-based Wide Management and head of festivals for Films Boutique in Berlin, where she oversaw titles including There Is No Evil, The Story Of My Wife and Border. Ivars will bridge the sales and festival departments, reporting directly to Vilsmaier and Wissinger.
Hamaide worked in social media marketing for L'Avventura Studio and headed campaigns at Playtime for films including By The Grace Of God, 120 BPM and Son Of Saul. He will now oversee Protagonist's international distribution and marketing activities, reporting to Wissinger.