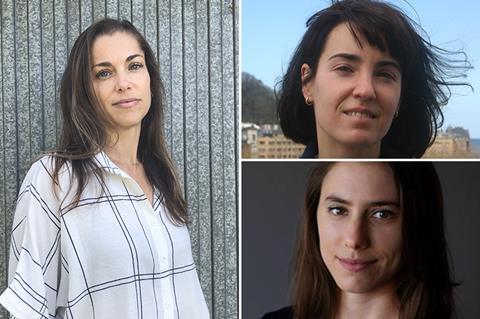 The next episode in our ScreenDaily Talks webinar series will take place September 9 at 10:00 BST / 11:00 CEST and will discuss how the international industry can work with the dynamic Spanish film sector.
The international demand for Spanish films and talent is making stars out of a new generation of directors and actors and ensuring Spain's thriving indie producers are sought-after creative partners.
Last month Screen launched our inaugural Spain Stars of Tomorrow, in partnership with Filmin, the Atlantida Mallorca Film Fest and the Spain Film Institute (ICAA), showcasing 10 new actors and directors with international potential.
In this conversation, key players will talk about the value of Spanish content in the international market, the benefits of working with a Spanish co-producer and the new trends and names set to emerge from this thriving territory.
The panelists are María Zamora, producer at Avalon; Maialen Beloki, deputy director of the San Sebastián International Film Festival; and Marielle Membreno, development and acquisitions executive at London-based sales firm Protagonist Pictures. The moderator is Screen International's Spain correspondent Elisabet Cabeza.
The 60-minute session will include a live Q+A section when viewers are able to ask questions. Advance questions can also be sent to orlando.parfitt@screendaily.com. The webinar password will be emailed after registration, and the webinar itself will be available to watch on Screendaily.com after it has taken place.
The panel is sponsored by Filmin, AMFF, and supported by ICAA.
Speakers
María Zamora
A producer at Spanish production and distribution company Avalon, María Zamora has just finished shooting Carla Simón's second film, Alcarràs, with France's mk2 Films, and is in pre-production on Álvaro Gago's debut feature Matria, which is being sold by Warsaw-based New Europe Film Sales. She is also in development with La Virgen Roja, directed by Paula Ortiz, and actress Marta Nieto's debut feature La Mitad De Ana. Zamora's extensive filmography as a producer includes Carla Simón's Summer 1993 (best first feature award and Grand Prix of the Generation K-Plus section at 2017 Berlinale), Clara Roquet's Libertad (which premiered in Cannes Critics' Week in July), and My Mexican Bretzel by Núria Giménez Lorang (winner of the Found Footage Award in Rotterdam in 2020).
Maialen Beloki
Deputy director of the San Sebastian Festival since 2016, Maialen Beloki is also coordinator of the Festival All Year Round policy, the institution's major strategic commitment to fostering new talents (including Ikusmira Berriak with Nest); training and knowledge transfer on the subject of film (through the Elías Querejeta Zine Eskola film school and Zinemaldia +); and cinematic research and thinking.
Marielle Membreno
As development and acquisitions executive at Protagonist Pictures, Marielle Membreno is responsible for helping build the slate with a focus on festival breakouts, emerging filmmakers and cast-driven titles. Membreno is responsible for sourcing projects for international finance, production and sales. Protagonist is handling sales rights to The MediaPro Studio's Venice and San Sebastian title Official Competition, starring Penélope Cruz and Antonio Banderas.