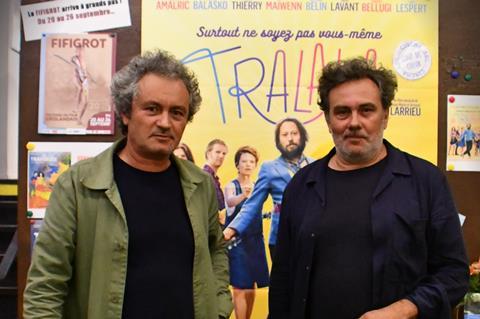 French filmmaking duo the Larrieu brothers, known for their eccentric comedies are turning to melodrama with Jim's Story for which Pyramide International has rights and is kicking off sales at the Cannes Market.
Jim's Story is an adaptation of the novel of the same name by Pierric Bailly and stars Sara Forestier, Sara Giraudeau, Karim Leklou, and Valérie Donzelli, director of Cannes Premiere title Just The Two of Us, alongside Noé Abita.

The film is about a family living in the Jura mountains who are torn apart following the return of the son's biological father.
Filming kicks off May 17 in Lyon and will continue in the Jura region in June.
Pyramide Distribution will release the film in France in 2024.
The film is produced by SBS Productions, Said Ben Said's prolific production house who is also behind Catherine Breillat's Cannes Competition film Last Summer.
SBS and Pyramide will also join forces for new Pyramide acquisition heading into the Cannes market, Pascal Bonitzer's Auction (Salle Des Ventes) about an auctioneer who discovers a painting missing since 1939 that turns out to be a looted masterpiece. The film stars Alex Lutz, Louise Chevillotte and Nora Hamzawi.
As well as Last Summer, Pyramide is also handling sales on Wang Bing's Competition title Youth (Spring), Special Screening Anna Novion's Marguerite's Theorem and Critics' Week titles Marie Amachoukeli's Ama Gloria and Amjad Al Rasheed's Inshallah A Boy.