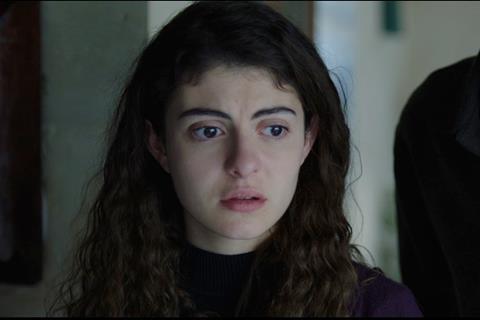 Paris-based Pyramide International has acquired international rights to Mohamed Diab's coming of age drama Amira, excluding Arab-language territories and Israel. CAA Media Finance is handling US rights.
The film wrapped shooting in Jordan this week.
Sister company Pyramide Films will handle the French release, having previously handled Diab's Clash and 678.
The Palestine-set drama marks the feature debut of actress Tara Abboud (pictured, left, in a first-look image) who stars as a bubbly 17-year-old who has grown-up believing she was conceived with the smuggled sperm of her imprisoned father.
Her sense of identity is shattered when another attempt to conceive a child with her father's smuggled sperm reveals he is infertile, rattling her community and turning her family against itself. Amira embarks on a quest to discover her biological father, and salvage what is left of her identity as her world falls apart.
Other cast members include Jordanian actress Saba Mubarak, Palestinian actors Ali Suleiman and Ziad Bakri, and US-Palestinian star Waleed Zuaiter.
Co-written by Diab with Khaled Diab and Sherine Diab, the film takes inspiration from the real-life phenomenon of Palestinian children who are conceived through in vitro fertilisation using the smuggled sperm of Palestinian political prisoners in Israeli jails.
More than 60 children are believed to have been conceived using this method in real-life, even though the Israeli authorities have tried to crack down on the practice.
Amira is produced by Egypt's Mohamed Hefzy at Film Clinic, Moez Masoud at Acamedia and Mona Abdelwahab at The Studio. Palestinian filmmaker-producers Hany Abu Assad and Amira Diab as well as Egyptian producer Sarah Goher are creatively overseeing the production.
Rula Nasser is also on board as a co-producer under the banner of Jordan-based production house The Imaginarium Films, which also oversaw the Jordanian part of the shoot. Paris-based Daniel Ziskind is an associate producer.
Amira marks Diab's third feature after his breakout film 678 in 2010, about sexual harassment in Cairo, and post-revolutionary drama Clash, which opened Cannes Un Certain Regard in 2016 and was Egypt's Oscar submission.