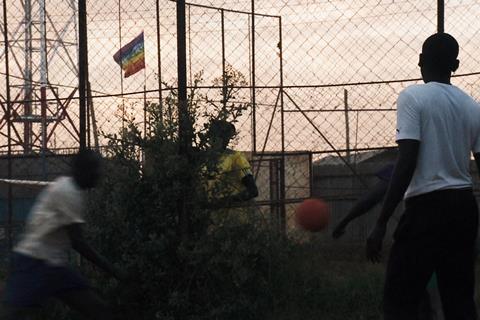 Bohemia Media has acquired UK, Ireland and North America rights to documentary I Am Samuel and plans to launch it on upcoming streaming platform, Bohemia Euphoria.
The feature directorial debut of Kenyan journalist Peter Murimi is an intimate portrait of a queer Kenyan man and his partner, and their experiences in a country where their love is criminalized. The documentary previously played at the UK's BFI Flare and London film festivals.
The deal, which was struck directly with the filmmakers, will see the film launch on June 3 in the UK and Ireland on new streaming platform Bohemia Euphoria before rolling out to other digital platforms on June 14. A digital release in North America is set for June 15.
The new VOD platform marks the latest move for Bohemia Media, the UK production and distribution outfit that was launched in January 2020 by Bankside Films and Head Gear Films managing director Phil Hunt and producer Lucy Fenton.
Bohemia Euphoria is intended to amplify the voices and stories of under-represented people, in line with the focus of the company, and is set to launch in mid-May.
Other titles set to be available on the streaming platform include Chinonye Chukwu's Sundance award-winner Clemency, starring Alfre Woodard; documentary Rebel Dykes, directed by Harri Shanahan and Sian Williams; and Lara Jean Gallagher's Clementine, which debuted at Tribeca in 2019.
"We will find, build and engage diverse communities for our films on Bohemia Euphoria," said Hunt of the new platform.
Outlining some of the features set to be included within the streamer, Hunt said it would offer "integrated community building functionality at the heart of the platform".
"Features of the platform will include an inbuilt feed for our community to share their stories and comment on other people's stories, providing a place for real and safe conversations," he added. "The VOD platform will provide a dynamic marketing tool for our filmmakers and in time we will be able to provide films with immediate inbuilt audiences and communities in a one stop virtual location."
Further titles acquired by Bohemia since launch include Flavio Alves' Mexican trans drama The Garden Left Behind; UK disability documentary A Space In Time, directed by Riccardo Servini and Nick Taussig; Dolya Gavanski's Women's Day, a UK-Russia co-production about feminism in Russia; and Jennifer Reeder's lesbian wrestler drama Signature Move.