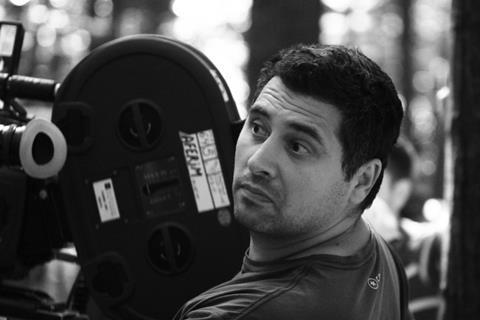 A new project from Romania's Radu Jude, the winner of the Golden Bear at the 2021 Berlinale competition, is among the 34 selected feature film projects from 32 countries that will take part in the Berlinale Co-production market.
Jude's Bad Luck Banging Or Loony Porn took part in the 2020 market before winning the Golden Bear last year. His new project is titled Heia, Heia, Safari!, and is produced by Germany's Jip film & Verleih and Romania's Micro Film.
The market is set to take place from February 12-16 as part of the European Film Market, and will be online only, for the second year running.
The selection also includes features from Agnieszka Holland, Burhan Qurbani, Sophie Hyde, Bence Fliegauf, Teona Mitevska, Nariman Aliev, Nathalie Álvarez-Mesén, Carlo Sironi, Milagros Mumenthaler, Ognjen Glavonić and Ivan Ostrochovský.
The producers will meet potential international co-producers, sales agents, TV broadcasters, funding representatives, streaming platforms and distributors, as well as other financing partners from across the world. Previous recent participants include Jasmila Žbanić's Quo Vadis, Aida? and Juho Kuosmanen's Compartment No.6.
The official project selection chose 19 feature film projects with budgets between €500,000 and €6m from a total of 295 submissions. There are four projects in the early stages of financing in the Berlinale Directors section, whose directors – Burhan Qurbani, Udita Bhargava, Radu Jude and the Iranian duo Maryam Moghaddam and Behtash Sanaeeha – have already shown successful films at the festival.
Love On Trial, which examines the meeting of Japanese idol culture with the judicial system and is directed by Japan's Koji Fukada, is looking for partners at both CineMart Rotterdam and the Berlinale Co-Production Market, as part of the Rotterdam-Berlinale Express.
In the Talent Project Market, 10 international producers from around the world in the first decade of their careers will present their latest projects.
The selection for Co-Pro Series is to be announced soon.
Berlinale Co-Production Market 2022
Official Project Selection
Mehal Sefari (Can- Ethiopia) dir. Abraham Gezahagne, prod. Abricom Multimedia, Gobez Media
Las Corrientes (Switz-Arg) dir. Milagros Mumenthaler, prod. Alina Film, Ruda Cine
The Paris Project (Bel) dir. Arno Salters, prod. Beluga Tree
Jimpa (Australia) dir. Sophie Hyde, prod. Closer Productions
Mother (Bel) dir. Teona Strugar Mitevska, prod. Entre Chien Et Loup
Ortalan (Ukr) dir. Nariman Aliev, prod. ForeFilms
The Wolf Will Tear Your Immaculate Hands (Swe-US) dir. Nathalie Álvarez Mesén, prod. Hobab, Resolve Media
The Wind Also Sings (Fr) dir. Hadi Ghandour, prod. Incognito Films, Virginie Films
Bonefever (Hun) dir. Bence Fliegauf, prod. Inforg-M&M Film, Fraktál Film
20,000 Species of Bees (Sp) dir. Estibaliz Urresola Solaguren, prod. Inicia Films, Gariza Films
The Difficult Bride (Ban) dir, Rubaiyat Hossain, prod. Khona Talkies
Truly Madly Deeply (It) dir. Carlo Siron, prod. Kino Produzioni
Yellow Letters (Turkey-Ger) dir. İlker Catak, prod. Liman Film, If… Productions
Slow (Lithuania) dir. Marija Kavtaradze, prod. M-Films,
Texas Soul Sister (Fr) dir. Pascale Lamche, prod. Maneki Films and Haut Et Court Doc
Kafka (Czech-UK-Ire) dir. Agnieszka Holland, prod. Marlene Film Production, Film and Music Entertainment
In the Shadow of the Horns (Ser) dir. Ognjen Glavonić, prod. Non-Aligned Films
Virginia Woolf's Night And Day (UK) dir. Tina Gharavi, prod. Piccadilly Pictures, Asterisk Films
The Spring (Slovakia) dir. Ivan Ostrochovský, prod. Punkchart Films
Berlinale Directors
My Favourite Cake (Fr-Iran) dirs. Maryam Moghaddam, Behtash Sanaeeha, prod. Caractères Productions, Honare Khiyal
Heia, Heia, Safari! (Ger-Rom), dir. Radu Jude, prod. Jip Film & Verleih, Micro Film
Eunuch (Ger), dir. Udita Bhargava, prod. Schiwago Film
No Beast So Fierce (Ger), dir. Burhan Qurbani, prod. Sommerhaus Filmproduktion
Rotterdam-Berlinale Express
Love On Trial (Jap-Fr), dir. Koji Fukada, prod. Knockonwood, Survivance
Talent Project Market
Breed (Ire), dir. Kate Dolan, prod. Evan Horan, Blinder Films
The Trials of Alien Life (Can), dir. Ian Lagarde, prod. Sarah Mannering, Colonelle Films
Girls Will Be Girls (India), dir. Shuchi Talati, prod. Pooja Chauhan, Crawling Angel Films
Available Now (Isr), dir. Assaf Machnes, prod. Kobi Mizrahi, KM Productions
Sadrack (Came), dir. Narcisse Wandji, prod. Evodie N. Ngueyeli, Les Films d'Ebène
Lucky Strikes (US), dir. Vivienne Vaughn, prod. Maya Korn, MHK Productions
Don't Cry, Butterfly (Sing-Viet), dir. Duong Dieu Linh, prod. Tan Si En, Momo Film Co
Hana Korea (S Kor-Den), dir. Frederik Sølberg, prod. Heejung Oh, Seesaw Pictures
Cachalote (Bra), dir. Angelo Defanti, prod. Bárbara Defanti, Sobretudo Produção
Kevlar Soul (Swe), dir. Maria Eriksson-Hecht, prod. Ronny Fritsche, Zentropa Sweden