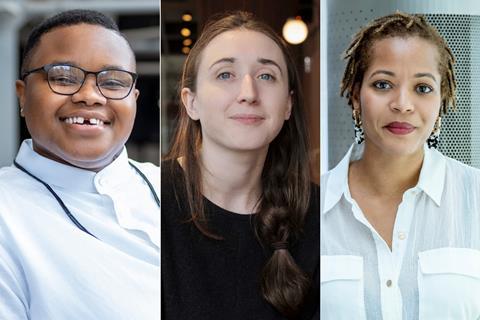 The upcoming Restart Conference (May 18-20) will hear from three upcoming producers about the obstacles of the last year and how they have overcome them.
Just as their careers were gathering momentum and they started hitting their stride, Covid-19 hit. Yet emerging producers Joy Gharoro-Akpojotor (Blue Story), Helen Simmons (Chubby Funny) and Rienkje Attoh (Noughts + Crosses) pushed their way through, all three shooting significant productions in challenging circumstances throughout lockdown.
This dynamic trio of former Screen Stars of Tomorrow talk to Screen's reviews editor, chief film critic and Stars of Tomorrow head Fionnuala Halligan about surmounting obstacles to emerge triumphant from lockdown – and what it all means for their futures.
The live panel will take place online at 09.30 BST on May 20.
Organised by Media Business Insight (MBI), publisher of Screen and Broadcast, the three-day virtual industry conference will see a number of sessions discussing the impact of the pandemic on the industry and how it can move forward, successfully navigating its way into the future. Find out more here.
The conference is free to attend for subscribers of MBI's leading media brands: Screen international, Broadcast, KFTV, Broadcast Intelligence, Commissioners Index and Production Intelligence.
To claim your free subscriber pass for the event, head to the website, register your interest and the team will be in touch. For non-subscribers there are ticket options available from £75, more details can be found on the registration page.
Restart is sponsored and supported by ScreenSkills, the BFI, the British Film Commission and Centtrip.
Restart Conference