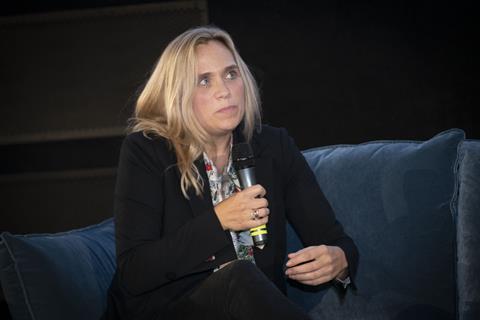 Nordic Noir is alive and thriving, according to Rikke Ennis, founder and CEO of Copenhagen-based REinvent Studios, which specialises in the packaging, financing and sales of Nordic content.
"What is clicking right now [with buyers] is Nordic noir," Ennis told an audience at Flanders Image's CONNeXT event in Ghent this week where she was giving a keynote speech.
"It still works extremely well. Crime and thrillers are always an easy sell. But there is a new touch to it as there is a bigger demand for female protagonists and the stories have become more personal."
Ennis set up REinvent last year after nearly two decades at Danish sales agent Trust (later TrustNordisk) and sister production company Zentropa.. She said the move was motivated by a desire to become more involved in the TV side content creation and sales.
"I was also very intrigued when I was at TrustNordisk about the number of film people now working in TV and how TV had suddenly become hot stuff," she explained. "I was also fascinated about making character-driven rather than plot-driven content."
Working with a 10-strong team, many of them former colleagues from TrustNordisk, Ennis now has 15 projects in development and packaging, half of which are commissioned. Of these around 80% are TV series and 20% are features.
"Everything is Nordic or has a Nordic angle," she said. "We have a tagline 'New Nordic Content' but that doesn't mean we don't co-produce with bigger territories and we also do English-speaking as long as it is based on a Nordic story.
"We have a balanced slate of Norwegian and Danish projects, a few Swedish [projects] and we're getting into the Faroese."
REinvent is working on the first Faroese crime series titled Trom. Although the story is very local, Ennis said she is eyeing the international remake market.
"The scriptwriter [Torfinnur Jákupsson] hadn't written anything before. He'd returned to the Faroese from London for some peace of mind, optioned some books and wrote a script," Ennis said of the genesis of the project.
"When we read it, we were blown away by the quality. We put some good people with him and started breaking down the story and building it up again in to give it international potential and hopefully we'll start producing spring time next year."
What works where
Ennis gave an insight into how she hopes the slate as a whole will evolve.
"We are out there all the time, we are at all markets and we just feel what is working, what is not working, what people ae looking for," she said of how she and the team works. "When we are selling to the world, meeting up with all the buyers, we listen carefully to what they are looking for.
"When we are at home with our creative hat on, we start putting the puzzle together. No one wants to do a show that no one wants in the end that takes five, six years to finance. We're shortcutting a little bit by knowing what is needed but also knowing from the beginning what is the limit of budget."
Nordic influencers
REinvent is also a partner - with Zentropa and TrustNordisk - in NutAlone, a transactional VoD streaming platform offering Nordic films to a global audience.
Ennis explained it was borne out of a frustration while she was at TrustNordisk and not being able to seal international deals on what she believed were "amazing" Nordic films.
"The big Lars von Triers, the Thomas Vinterbergs, sell worldwide but smaller ones, even with a festival behind them, sell to few territories," she explained.
"[We had] a catalogue of gold lying there and not bring activated. The idea was to activate those titles and make them globally available via TVoD."
One of the aims of NutAlone is to harness the influential power of key supporters of Nordic films around the world.
"The idea is that they are able to embed a link to Nutlaone on their own website so it becomes a personal recommendation to their - you could say - friends," said Ennis. "They would get a cut of the transactional fee, which is defined by the rights holder as a minimum of 10%."
A beta version of the site is running with 300 titles, heading towards 500.
"We are working towards AVoD and SVoD as well as TVoD and also coming up with the 'white label' solution within the next year, year and a half," she added. "The TVoD model is challenged on catalogue titles as [there is a perception that] why should you pay to watch a title if it is already available somewhere else? The problem is, it isn't available somewhere else."
Ennis said NutAlone is in talks with festivals, particularly the Berlinale, to collaborate on titles. "That's so we get the newest and the most-hyped titles that are not mainstream but, for sure, will not be picked up by Nordisk or Netflix," she said.
"We are securing the future of distribution so once we are out of a job on the sales side, we will just upload the films to the platform."