Seasonal comedy Office Christmas Party claimed second place.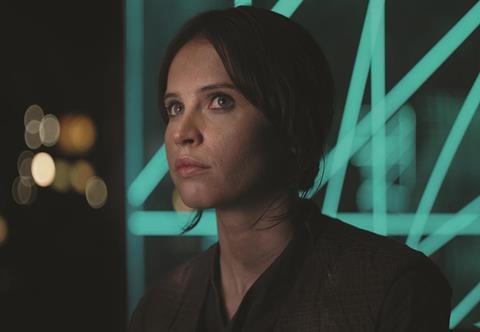 Rogue One maintained its position at the top of this week's UK social media chart, according to marketing firm Way to Blue.
The Star Wars spin-off generated 37,321 comments across social media, news, forums and blogs from December 8-14 with an intent to view percentage of over 14%. It was released in the UK on December 15, and box-office analysts are predicting that it could exceed $300m worldwide in its opening week.
Seasonal comedy Office Christmas Party was the second most popular title, with approximately 3,500 comments, less than 10% of the number of Star Wars. However the film does have an exceptionally high intent to view percentage of 89%.
Birth Of A Nation came third in the social media rankings, with 1,030 comments, but with only 79 suggesting an intent to view. The film was picked up by Fox Searchlight after rapturous reviews at Sundance in January for a record fee of $18m.
Rounding up the top five is the upcoming romantic sci-fi movie Passengers, starring Jennifer Lawrence and Chris Pratt, and the recently released Oliver Stone film Snowden, which has Joseph Gordon-Levitt in the titular role. The two features have generated 1,083 and 976 comments respectively.