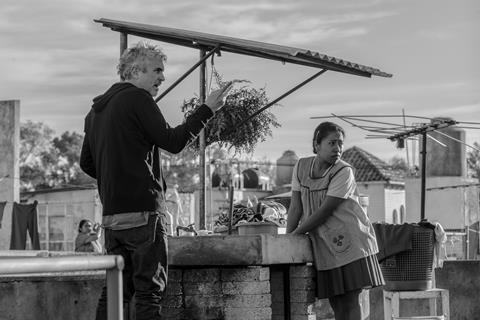 E-Stars has acquired Chinese theatrical rights to Alfonso Cuaron's heavyweight Oscar contender ROMA.
E-Stars negotiated the deal with Lionsgate International on behalf of Participant Media, which produced and financed the Venice Golden Lion winner.
Sources had not confirmed the release date at time of writing, although separately Netflix, which holds worldwide rights excluding China, has been quietly orchestrating a December global release with theatrical partners on more than 100 screens to coincide with the launch on the streaming platform.
Curzon Cinemas in the UK is believed to be among the global partners and worked with the streaming giant on other titles including Mudbound.
One major Asian distributor announced recently on social media that it was planning a theatrical release for ROMA, only to remove the post after Screendaily got in touch.
Netflix had not confirmed a deal with Curzon Cinemas or any other company at time of writing and was understood to be close to announcing full details on ROMA's global roll-out.
The film will open in an unspecified number of US locations through various partners as Netflix seeks to boost the black and white, Spanish-language drama's awards season prospects and earn a coveted first best picture Oscar nomination.