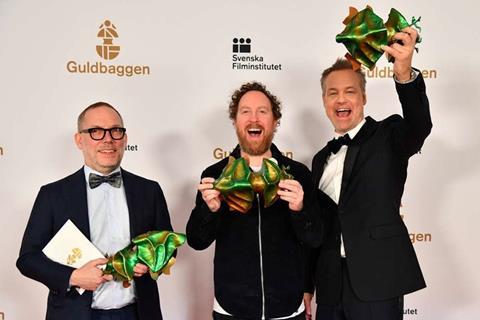 Henrik Schyffert's Run Uje Run has won best film at the 2021 Guldbagge Awards, Sweden's top film accolade, which also saw Amanda Kernell's Charter score a hat-trick including best director.
Run Uje Run, written by and starring Swedish musician Uje Brandelius, is an autobiographical comedy-drama that centres on a pop star who is diagnosed with Parkinson's.
Scroll down for full list of winners
The feature, which won the audience award and Fipresci prize when its debuted at Goteborg Film Festival last year, also scored the best leading actor and screenplay prizes for Brandelius at the ceremony in Stockholm last night (January 25).
Charter, which is Sweden's submission for the best international feature Oscar, also picked up three Guldbagge prizes including best director for Kernell, best leading actress for Ane Dahl Torp and best cinematography for Sophia Olsson.
Charter is Kernell's second feature, after the acclaimed Sami Blood, and received its world premiere at Sundance. The story follows a Swedish mother's desperate move to abduct her own children on a trip to the Canary Islands because she fears she will lose custody of them. TrustNordisk has closed a raft of sales on the title.
Other winners included I Am Greta, Nathan Grossman's portrait of young Swedish climate activist Greta Thunberg, which won best documentary; while best international feature was awarded to another documentary, For Sama, directed by Waad Al-Kateab and Edward Watts.
Guldbagge Awards 2021 winners
Best Film
Run Uje Run
Best Director
Amanda Kernell, Charter
Best Actress in a Leading Role
Ane Dahl Torp, Charter
Best Actor in a Leading Role
Uje Brandelius, Run Uje Run
Best Actress in a Supporting Role
Lena Endre, My Father Marianne
Best Actor in a Supporting Role
Ahmad Fadel, Ghabe
Best Screenplay
Uje Brandelius, Run Uje Run
Best Editing
Fredrik Morheden, Breaking Surface
Best Cinematography
Sophia Olsson, Charter
Best Sound/Sound Design
Fredrik Lantz, The Other Side (Andra sidan)
Best Original Score
Ola Kvernberg, Only the Devil Lives Without Hope
Best Visual Effects
Jelmen Palsterman and Tony Kock, Breaking Surface
Best Costume Design
Kicki Ilander, Nelly Rapp Monster Agent
Best Set Design
Linda Janson and Charlotte Alfredson, The Jonsson Gang
Best Makeup
Hanna Holm Löfgren, Eva von Bahr and Love Larson, Nelly Rapp Monster Agent
Best Documentary Film
I Am Greta, Nathan Grossman
Best International Feature Film
For Sama, Waad Al-Kateab and Edward Watts
The Award of Honour (Hedersguldbagge)
Sten Ljunggren, actor
The Gullspira (for extraordinary contributions in films for children)
Jon Nohrstedt, producer
Best Short Film
A Legacy of Horses, Annika Karlsson and Jessica Karlsson