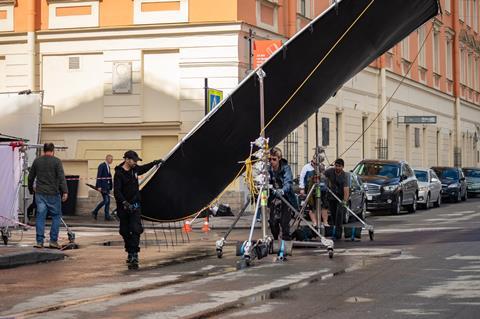 Yash Raj Films' untitled Bollywood feature Production 70 has become the first project to access Russia's 40% cash rebate programme for internatonal productions, launched two years ago at the AFM.
According to the Russian Export Center and Ministry of Economic Development, it will receive $650,000 in support, based on the declared budget for production in Russia at the time of submitting the application.
Yash Raj Films, one of India's largest production studios, is shooting the film in St Petersberg. The spy thriller is directed by Maneesh Sharma and stars Bollywood actors Salman Khan and Katrina Kaif. It is being co-produced by Alexander Dostal of Etalon Film.
"It is especially important for us that the first film to receive support under the federal rebate program is a large-scale project, a sequel to a popular Indian blockbuster," said Evgenia Danilchenko, head of creative industries support at Russian Export Center.
"Besides attracting investment and infrastructure development, we pursue an increase in the tourist flow to the filming locations."
The Russian government has allocated more than $4m for the trial period of the rebate programme which runs from 2021-2023. This amount is likely to be increased in response to demand from big international projects.
"If not for Covid, it would have started earlier," said Evgenia Markova, CEO of Russian promotional body Roskino. "But we are happy that it has started [now] and grateful to the Ministry of Economic Affairs, who launched it. We are sure there is much more to come because the Russian industry is very much oriented toward collaboration with foreign producers."
Markova revealed that regional rebates are also expected to be announced shortly. International producers will be able to use these in tandem with the national rebate.
"We are sure this type of rebate will help Russians to work with foreign producers even more as well as helping our foreign colleagues to discover the opportunities in this country," said Markova.