Warner Bros' disaster thriller achieves director Brad Peyton's best-ever UK bow.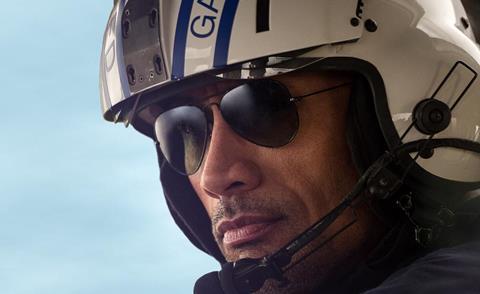 WARNER BROS
Replicating its chart-topping domestic success, San Andreas cracked Pitch Perfect 2's chance of a hat-trick at the top of the UK box office.
Warner Bros' disaster thriller scored a strong $7.1m (£4.63m) debut from its 506 sites, including $1.1m (£739,000) in previews. It's worth noting that its $5.9m (£3.89m) Fri-Sun tally would have also seen San Andreas comfortably debut in first.
The debut marks director Brad Peyton's best-ever UK bow and will soon see San Andreas become his highest grossing outing, currently Journey 2: The Mysterious Island's $10.7m (£7m) result.
San Andreas has also already outgrossed the entire run of stablemate disaster film Into the Storm, which whipped up $4.3m (£2.8m) last year, but couldn't quite match the $9.9m (£6.5m) bow of 2012, which arguably benefitted from a more well-known director in Roland Emmerich.
Also for Warner Bros, Mad Max: Fury Road continued its great UK run with a $2.7m (£1.75m) third weekend for $20.9m (£13.72m) to date.
UNIVERSAL
It may have been knocked off the top spot, but Pitch Perfect 2 continued to shine with a $2.8m (£1.87m) third weekend.
Universal's sequel is now up to a healthy $22.1m (£14.5m) and still has an outside chance of £20m.
Also for Universal, Fast & Furious 7 has reached $58.6m (£38.5m), while Search Party went missing on its UK bow after grossing just $27,000 (£17,876) from its 106 sites.
DISNEY
Tomorrowland: A World Beyond dropped to fourth with a $1.6m (£1.04m) second weekend after a slim drop of 27%.
Disney's adventure is now up to $6.2m (£4.11m) after ten days in play and has at least avoiding being director Brad Bird's lowest ever UK performer having passed the $3.5m (£2.3m) result of The Iron Giant.
Also for Disney, Avengers: Age of Ultron fell just 17% in its sixth weekend as it took an extra $1.3m (£883,000) for $71.7m (£47.14m) to date.
FOX
Poltergeist fell 48% on its way to a $1.1m (£734,867) second weekend as it dropped to sixth.
Fox's horror remake is up to $5.1m (£3.36m), which compares favourably to the final tallies of recent horror remakes (albeit not in 3D) Evil Dead ($5.2m/£3.42m) and Nightmare on Elm Street ($5.3m/£3.5m).
Also for Fox, Home was boosted by the half term and increased 90% with a $695,000 (£456,794) for a superb $36.6m (£24.1m) after 11 weeks in play.
Far from the Madding Crowd and Pinewood Pictures' Spooks: The Greater Good have amassed $8.7m (£5.7m) and $4.7m (£3.07m), respectively.
STUDIOCANAL
Man Up charted seventh with a somewhat disappointing $804,000 (£528,652) from its 357 sites, with three still to report.
StudioCanal's rom-com failed to come close to the $2.2m (£1.45m) debut of fellow homegrown rom-com I Give It a Year from slightly more sites at 396.
It will hope that good word-of-mouth can sustain it in the weeks ahead.
Also for StudioCanal, A Girl Walks Home Alone at Night bit into a further $37,000 (£24,449) for $163,000 (£107,448) to date.
EONE
Like Home, eOne's Two by Two was also boosted by the school holidays as it rose 77% on its way to a $400,000 (£263,000) fifth weekend, meaning the animation has now sailed to $3.1m (£2.06m).
Also for eOne, Danny Collins launched with a soft $343,000 (£225,000) from its 353 sites and will hope to be better received by the midweek audiences.
ALTITUDE FILM DISTRIBUTION / PICTUREHOUSE ENTERTAINMENT
The Connection started its UK run with $128,000 (£83,586), including $2,700 (£1,754) in previews, from its 54 sites through Altitude Film Distribution and Picturehouse Entertainment.
LIONSGATE
It may have had an underwhelmig start, but Lionsgate's Moomins on the Riviera managed to post a minimal drop in its second weekend as it took $118,000 (£77,480) for a ten-day tally of $447,000 (£293,954).
Also for Lionsgate, A Royal Night Out is up to $1.3m (£858,156) after three weeks in play.
CURZON FILM WORLD
Oscar nominee Timbuktu recorded a UK debut of $113,000 (£74,109), including $13,000 (£8,662) in previews, from its 32 sites through Curzon Film World.
Also for Curzon Film World, Clouds of Sils Maria has grossed $257,000 (£169,131) after three weeks in play.
METRODOME
In its second weekend, Metrodome's The New Girlfriend added $49,000 (£31,962) from its 40 sites for $279,000 (£183,634) to date.
In terms of director François Ozon's outings in the UK, it has now overtaken Young and Beautiful, but won't catch either Potiche or In the House.
SODA PICTURES
Guy Myhill's debut feature The Goob posted a UK bow of $13,000 (£8,435), including $2,000 (£1,291) in previews, through Soda Pictures.
VERTIGO FILMS
Released in six sites through Vertigo Films, Sword of Vengeance sliced its way to $3,700 (£2,423) on its UK debut.
UPCOMING RELEASES
This week sees saturation releases for Fox's Spy, eOne's Insidious Chapter 3 and Lionsgate's Survivor.
Munro Films' Four Corners and Eros' Dil Dhadakne Do both receive wide releases, while Metrodome's Electric Boogaloo: The Wild Untold Story of Cannon Films and StudioCanal's Black Coal Thin Ice are among the films receiving a limited release.
Curzon Film World's Queen and Country is released in London ahead of a nationwide expansion from June 12.