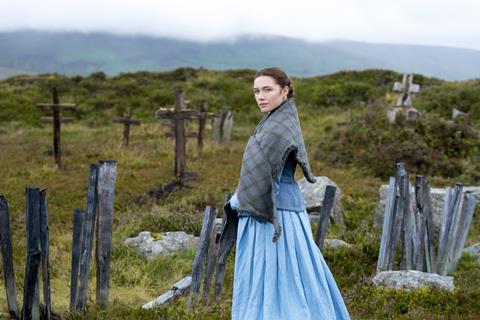 Films from Sebastián Lelio and Hong Sang-soo are among the new titles to be selected in competition at this year's San Sebastian Film Festival (September 16-24).
Lelio, whose A Fantastic Woman won the Academy Award for best foreign-language film in 2017, makes his San Sebastian competition debut with The Wonder. Adapted from Emma Donoghue's novel set in a 19th-century Irish town, it stars Florence Pugh, Ciarán Hinds, Tom Burke, Toby Jones and Niamh Algar.
Cannes and Berlin prize winner Hong San-soo will make his second appearance in San Sebastian's official selection (following Yourself And Yours in 2016) with Top / Walk Up, about a middle-aged filmmaker.
Christophe Honoré returns to San Sebastian with Winter Boy, which follows a teenager in crisis following the death of his father and stars Paul Kircher, Vincent Lacoste and Juliette Binoche.
Also present in competition is Manuel Abramovich with Pornomelancholia, about a sex influencer; Diego Lerman with The Substitute, which follows a teacher in the suburbs of Buenos Aires; Marco Martins' UK-shot immigration drama Great Yarmouth-Provisional Figures; and Laura Mora's second feature The Kings of the World, about five boys who live on the streets of Medellín.
The line-up also includes family drama Forever from Frelle Petersen, whose first feature Uncle won the Tokyo Film Festival grand prix in 2019; Ulrich Seidl's San Sebastian competition debut Sparta, which completes the diptych started with Berlin competition title Rimini (2022); and Petr Václav's Il Boemo, about prolific Italian opera composer Josef Myslivecek.
The competition will also show the debut films from Genki Kawamura (A Hundred Flowers) and Marian Mathias (Runner).
The Spanish titles to compete for the Golden Shell have previously been announced.
San Sebastian 2022 Competition titles
The Substitute (Arg-Sp-It-Fr-Mex) dir. Diego Lerman
Great Yarmouth - Provisional Figures (Port-Fr-UK) dir. Marco Martin
A Hundred Flowers (Japan) dir. Genki Kawamura
Il Boemo (Czech-It-Slovakia) dir. Petr Václav
Winter Boy (Fr) dir. Christophe Honoré
The Kings Of The Wold (Lux-Col-Fr-Mex-Nor) dir. Laura Moro
Pornomeloncholia (Arg) dir. Manuel Abramovich
Forever (Den) dir. Frelle Petersen
Runner (US-Ger-Fr) dir. Marian Mathias
Sparta (Austria-Fr-Ger) dir. Ulrich Seidl
The Wonder (UK-Ire-US) dir. Sebastián Lelio
Top / Walk Up (S. Korea) dir. Hong Sang-soo