Ten projects from South-East Europe, Middle East and North Africa will compete for industry awards.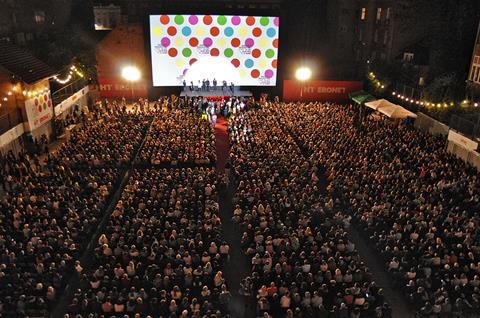 Sarajevo Film Festival's (Aug 12-20) Works in Progress strand has revealed the line-up of projects which will compete for three awards during the festival's Industry Days on Aug 17 and 18.
Prizes will include the traditional post-production in-kind awards from Slovenia's Restart (€20,000) and Berlin-based The Post Republic (€50,000), as well as a newly established €30,000 cash prize from Turkish broadcaster TRT.
The jury is comprised of Jan Naszewski of New Europe Film Sales, Giona A. Nazzaro from the Venice Film Festival Critics' Week, Michael Reuter of The Post Republic and a representative from the TRT.
The projects will be presented to funders, sales agents, distributors, broadcasters and festival programmers, including representatives of Bankside Films, the Berlin International Film Festival, Bir Film, Celluloid Dreams, Coproduction Office, the Directors' Fortnight, Elle Driver, the Festival de Cannes, Indie Sales, Lumiere, The Match Factory, Memento, Protagonist Pictures, the Tribeca Film Festival, the Venice Film Festival and its Critics' Week, Wide Management and Wild Bunch.
In addition, the festival's CineLink Co-production Market has announced three guest projects, one from Qatar and two from Mexico.
WORK IN PROGRESS PROJECTS:
Breaking News (Romania)
Director: Iulia Rugină
Producers: Bogdan Crăciun, Oana Giurgiu
Mean Anomaly (Iran)
Director/Producer: Ali Ahmadzadeh
Daha (Turkey)
Director: Onur Saylak
Producer: Ziya Cemre Kutluay
Holy Air (Israel)
Director/Producer: Shady Sarour
Hostages (Georgia)
Director: Rezo Gigineishili
Producer: Tamara Tatishvili
Nils (Israel)
Director: Ram Nehari
Producer: Yifat Presteknik
One of These Days (Lebanon)
Director: Nadim Tabet
Producer: Georges Schoucair
Thala My Love (Tunisia)
Director: Mehdi Hmili
Producer: Mohamed Ali Ben Hamra
The Secret Ingredient (Macedonia)
Director/Producer: Gjorce Stavreski
Touch Me Not (Romania)
Director: Adina Pintilie
Producers: Monica Lăzurean-Gorgan, Adina Pintilie
CINELINK CO-PRODUCTION MARKET GUEST PROJECTS:
Bull Shark (Qatar)
Director: Mohamed Al Ibrahim
Producers: Bassam Al Ibrahim, Khalid Al Jaber
Skin Deep (Mexico)
Director: Paulina del Paso
Producers: Elisa Miller, Samra Ibrahim, Leandro Córdova
Tito's Lost Mariachi (Mexico)
Director: Francisco Ohem
Producers: Marta Núñez Puerto, Mike Downey