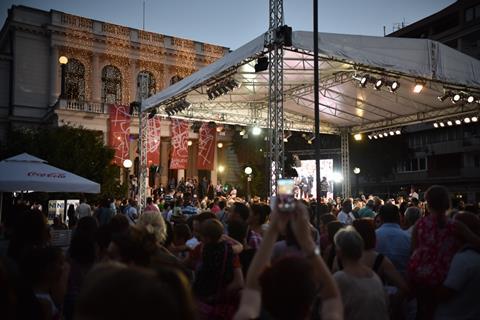 The Sarajevo film festival (August 12-19) has revealed the nine feature projects and seven drama series from Southeast Europe that will take part in its Co-Production Market running as part of the CineLink industry Days.
This year the festival has also launched the Female Voices CineLink Award, worth €10,000 and presented by the Slovenian Film Centre, for one participating project in the market.
The selected projects include Hear The Yellow directed by Banu Sivaci, whose first film The Pigeon played in Generation 14plus strand at the 2018 Berlinale; and Patrimonial Fears And Other Symptoms from Elina Psykou, director of Son Of Sofia which won five prizes at Greece's 2017 Iris Awards.
There are also projects from Dina Duma and Ivan Bakrač, who had films selected at Karlovy Vary in 2021, and Iris Elezi and Thomas Logoreci, directors of 2016 Albania Oscar submission Bota.
The participating filmmakers will take part in a workshop in June, one-on-one meetings during the festival, and online meetings in September.
The other film cash awards are: Eurimages co-production Development Award (€20,000), Film Center Montenegro CineLink Award (€10,000), Film Center Serbia CineLink Award (€10,000) and ArteKino International Prize (€6,000). The CineLink Drama prizes are: Croatian Audiovisual Center Drama Award (€15,000) and TV Drama Vision Pitch Award (with one project to be presented at TV Drama Vision in Göteborg).
Discussing the new Female Voices award, Slovenian Film Centre director Nataša Bučar said: "In recent years, women authors have been enriching the global audiovisual industry more than ever, and we also wish to promote the feminine worldview in our regional audiovisual works."
CineLink Co-Production Market 2022 projects:
*synposes provided by CineLink
Feaure projects
All They Know About Love (Turk)
Director: Melik Kuru
Prod: Irem Akbal
Prod co: Bal Film
A well-educated, emotionally underdeveloped translator enjoys the borderline relationship he has with his mother. Starting at a tutoring job in a francophone institution, one of his young students will be strongest obstacle and most reliable guide on this journey.
The Boy With The Light Blue Eyes (Gre)
Dir: Thanasis Neofotistos
Scrs: Thanasis Neofotistos, Grigoris Skarakis
Prod: Ioanna Bolomyti
Prod co: Argonauts Productions
On the Greek folk mountains, there is a remote superstitious village. Peter, a different teenager, lives there with his strict grandmother & his overprotective mother. Through a series of events, lies revealed, curses are unveiled and Peter will sacrifice his light-blue eyes in order to be free.
Hear The Yellow (Tur)
Dir/scr: Banu Sivaci
Prod: Zeynep Koray
Prod co: ZKF
Co-prod co: La Fabrica Nocturna
Successful opera diva Suna, who refuses male dominance at an early age, escapes from the village she was born. Decades later, she goes back and witnesses possible scenarios of her life, if she stayed.
Mum (Ser-Cro)
Dir/scr: Nikola Ležaić
Prods: Nikola Ležaić, Siniša Juričić
Prod co: Qče, Nukleus Film
Nikola travels with his father to return the remains of his grandmother back to her home village in Croatia. He learns a lesson about parenthood, family, and memories that are sometimes not real.
Patrimonal Fears And Other Symptoms (Gre-Bul)
Dir/scr: Elina Psykou
Prods: Maria Drandaki, Konstantinos Vassilaros
Prod co: Homemade Films, StudioBauhaus, Red Carpet Films
Dinos is the father of Lakis and Lakis is the father of Konstantinos. All three of them are chubby and scared. Will their fears disappear when David Copperfield makes the Acropolis disappear?
Petty Thieves (Ger-Croatia-Fr)
Dir/scr Mate Ugrin
Prods: Daria Blažević, Mate Ugrin, Karsten Krause, Frank Scheuffele, Julia Cöllen, Tiphaine Robion
Prod co: Fünferfilm (Germany)
Co-prod cos: Kadromat (Croatia), In The Cut (France)
Young loner Rio gets by with seasonal jobs and petty thefts in resorts on the Adriatic coast. His carefree everyday life is thrown off balance by Andrea, a seasonal worker from Serbia who becomes his partner in crime. During the course of the summer, they will spend a short but intense time together, that they will never forget.
Skateboarding Is Not For Girls (North Macedonia-Bel)
Dir: Dina Duma
Writers: Dina Duma, Lidija Mojsovska
Prod:Labina Mitevska
Prod cos: Sisters and Brother Mitevski, Entre chien et Loup
When a conservative tradition of bridal sale becomes a solution for a financial family problem, Adela dives into a completely new world where she gets caught between traditional and modern values.
We All Die Naked (Alb)
Dirs/scrs: Iris Elezi, Thomas Logoreci
Prod: Enea Gramo
Production co Art Film
A recovering Albanian alcoholic and a drunken, dying Italian drive across the Balkans searching for the perfect place to die.
Yugoslavia (Ser-Fr)
Dir/scr: Ivan Bakrač
Prods Ivan Bakrač, Nikolina Vučetić – Zečević, Guillaume de Seille
Prod co: Quadrifolium Films (Montenegro)
Co-prods: Biberche Productions (Serbia), Arizona Films (France)
On her 55th birthday, in order to overcome complete loneliness, Yugoslavia uses a vacation in searching for a new apartment. However, that quest will change her life in different way than she imagined.
Drama series projects
Brothers (Gre-Cyp-Lux)
Creator/scr: Simon Farmakas
Prods: Alexandra Hoesdorff, Désirée Nosbusch, Fenia Cossovitsa,
Prod co: Deal Productions
Co-prods: BLONDE
When the son of a German politician is found dead inside no man's land dividing Nicosia, opposing detectives, a Greek Cypriot and a Turkish Cypriot are forced to work together to investigate the crime.
By Law (Bos & Her)
Creator/scr/prod: Hari Šečić
Prod co: Association Spektar
A police drama series set in modern-day Bosnia. It tells the story of young detective who is solving crimes, realizing that the main problem of the society is corrupted system that he fights.
Gloria (Hun)
Creator: Balázs Zachar, Marcsi Tóth
Dir: Fanni Szilágyi
Prod: Balázs Zachar
Prod co: Proton Cinema
A young nun has to start a new life in the secular world and faces the awakening woman in herself.
Hela After All (Ser, Cro)
Creators: Saša Podgorelec
Scrs: Jelena Paljan, Antonio Gabelić
Prods: Aleksandar Janković, Vojislava Janković
Prod co: United media production
As Croatia's football team paves its way towards the 2018 World Cup finals, the police investigation of the powerful priest's intriguing death devastates the young girl's life.
Nighttime (Ser)
Creators: Nikola Ljuca, Milan Marić
Scrs Staša Bajac, Nikola Ljuca
Prod: Milan Marić
Prod co: Mechanism
Horror is other people.
Rumpus (Cro)
Creator: Dubravka Turić, Danijel Žeželj
Scr: Dubravka Turić
Prod: Ankica Jurić Tilić
Prod co: Kinorama
Investigating the murder of a teenager, the female detective discovers the dark secret of a small industrial town and sinks into the swamp of the evil spirit Rumpus.
The Turkish Ambassador (Ser)
Creator/prod; Darko Lungulov
Prod co: Papa Films
A brave Yugoslav man gets killed while trying to stop the assassins of the Turkish ambassador. A controversial Yugoslav lawyer defends assassins blaming the police for accidentally killing the man.