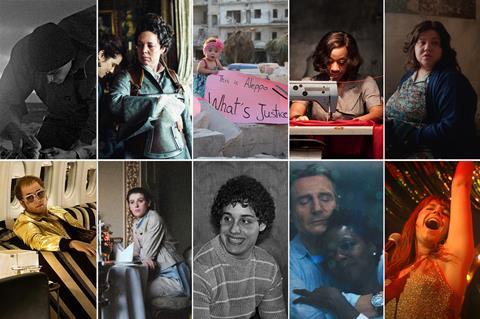 The nominees for Screen International's 2019 Best British Film of the Year award have been revealed.
The winner will be voted for by Screen International readers (see below) and will be announced at this year's Screen Awards ceremony held on November 28 at The Ballroom Southbank in London. Voting closes on October 31. This year's other Screen Awards nominees have been announced here.
The award launched last year, with Dan Kokotajlo's Apostasy winning the first edition.
This year's top 10 was selected by Screen International's team of critics based on films that received a UK theatrical release during the Screen Awards eligibility period (October 1, 2018-September 30, 2019). Titles were defined as British based on BFI or Bafta criteria.
The nominees are: Bait (BFI Distribution); The Favourite (Fox Searchlight); For Sama (Republic Film); In Fabric (Curzon); Ray & Liz (New Wave); Rocketman (Paramount); The Souvenir (Curzon); Three Identical Strangers (Dogwoof); Widows (20th Century Fox); and Wild Rose (eOne).
The category is sponsored by ScreenSkills.
To vote for the winning film, select one of the options below.
Bait
Dir. Mark Jenkin
Producers: Kate Byers, Linn Waite
UK distributor: BFI Distribution
UK release date: 30 August, 2019
The Favourite
Dir. Yorgos Lanthimos
Producers: Ceci Dempsey, Ed Guiney, Yorgos Lanthimos, Lee Magiday
UK distributor: Fox Searchlight
UK release date: 1 January, 2019
For Sama
Dirs. Waad Al-Kateab, Edward Watts
Producer: Waad Al-Khateab
UK distributor: Republic Film
UK release date: 13 September, 2019
In Fabric
Dir. Peter Strickland
Producer: Andrew Starke
UK distributor: Curzon
UK release date: 28 June, 2019
Ray & Liz
Dir. Richard Billingham
Producer: Jacqui Davies
UK distributor: New Wave
UK release date: 8 March, 2019
Rocketman
Dir. Dexter Fletcher
Producers: Adam Bohling, David Furnish, David Reid, Matthew Vaughn
UK distributor: Paramount
UK release date: 22 May, 2019
The Souvenir
Dir. Joanna Hogg
Producers: Joanna Hogg, Luke Schiller
UK distributor: Curzon
UK release date: 30 August, 2019
Three Identical Strangers
Dir. Tim Wardle
Producers: Grace Hughes-Hallett, Becky Read
UK distributor: Dogwoof
UK release date: 30 November, 2018
Widows
Dir. Steve McQueen
Producers: Iain Canning, Steve McQueen, Arnon Milchan, Emile Sherman
UK distributor: 20th Century Fox
UK release date: 6 November, 2018
Wild Rose
Dir. Tom Harper
Producer: Faye Ward
UK distributor: eOne
UK release date: 12 April, 2019