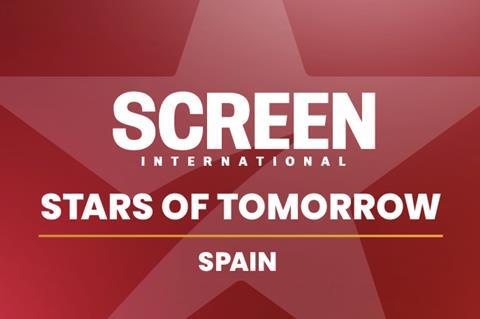 The 2023 line-up of Spain Stars of Tomorrow, part of Screen International's prestigious talent-spotting series, will be unveiled at the San Sebastian Film Festival on September 22.
A launch event will take place during the festival on September 26 to introduce the 10 rising actors and filmmakers with the potential for breakout international careers to the industry.
The third edition of Spain Stars welcomes the Spain Film Commission as headline partner, and the San Sebastian Film Festival as supporting partner.
A dedicated Spain Stars of Tomorrow print edition will also be published at the start of the festival, featuring the photo shoot for this year's talent showcase that took place in Madrid late July.
Carlos Rosado, president of the Spain Film Commission, said: "The mission of the Spain Film Commission is not only to attract shoots, it also involves working to consolidate and expand the Spanish industry. This includes supporting new talent. We invest ourselves in supporting initiatives that help spotlight our industry. That's why we are delighted to be involved in Screen International's Spain Stars of Tomorrow. It fits perfectly with our policy of international promotion and the presence in all the key markets."
Jose Luis Rebordinos, director of the San Sebastián film festival, added: "It's a pleasure to host the reveal of the young professionals selected for this year's edition of Screen International Spain Stars. Our festival has a long history of supporting new talent since a section devoted to new filmmakers was created in the mid 1970s. Since then, sections like New Directors and the inclusion of first and second features throughout the slate of sections have worked in the same direction. Supporting new talent has also been the goal of different initiatives in recent years, like the Ikusmira Berriak residency programme."
Rebordinos says he hopes they will meet the 2023 Spain Stars "in the near future with their projects".
Screen International editor Matt Mueller said: "The Spanish film industry has long been one of the most vital and dynamic in the world, and the opportunities for Spanish talent to travel internationally has never been greater. We are proud of this year's selection, and know that we will be hearing their names for years to come."
Spain Stars of Tomorrow launched in 2021, has showcased rising talents including Money Heist and Welcome To Eden actress Dariam Coco and filmmaker Elena López Riera, whose debut feature The Water was selected for Cannes in 2022. Also selected for the inaugural Spain talent showcase were actors Berta Castañé, Guillermo Lasheras, Jone Laspiur, Alex Monner, Mireia Oriol, Ton Vieira, and filmmakers Alvaro Gago (whose first feature Matria premiered at the Panorama section of the Berlinale) and Jiajie Yu Yan.
The second edition included filmmakers Elena Martin, whose second feature Creatura played at Directors' Fortnight earlier this year in Cannes, winning the Europa Cinemas award for best European Film; Mikel Gurrea in competition last San Sebastián with Suro; Àlex Lora and María Pérez Sanz. The actors included Zoe Arnao, Carlos Cuevas, Jason Fernández, who appeared in Pedro Almodóvar's Strange Way Of Life, Valeria Sorolla, Veki Velilla and Pol Hermoso.
Screen International's UK and Ireland Stars of Tomorrow has been running since 2004 and alumni include John Boyega, Emily Blunt, Robert Pattinson, Michaela Coel, Carey Mulligan, Florence Pugh and Paul Mescal. Screen's Arab Stars of Tomorrow initiative was launched in 2016 andhas showcased talents including Moroccan filmmaker Alaa Eddine Aljem, Lebanese director Mounia Akl and Palestinian actress Maria Zreik.