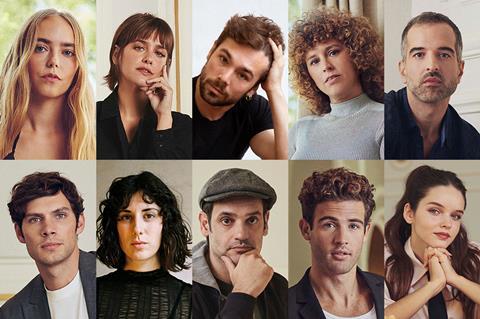 Screen International today unveils the second edition of Spain Stars of Tomorrow, part of Screen's long-running talent-spotting series.
The list of 10 rising actors and filmmakers are making a name for themselves in the vibrant Spanish film and TV landscape, all with the potential to break out and pursue international careers.
Scroll down for the full list
The 2022 line-up of Spain Stars of Tomorrow are being presented today (November 16) at a special launch event at the Leclab club in Madrid, in the company of HBO Max Spain, the headline partner of this year's showcase, and supporting partner, the Spain Film Commission.
The list of talents was curated by Screen's Spain correspondent Elisabet Cabeza. "It has been a pleasure to spotlight upcoming talents that are so hard-working and passionate about their profession," said Cabeza. "After a year full of success for Spanish productions that started with Carla Simón's Golden Bear win at the Berlinale with Alcarràs, I cannot think of a better way to call attention to what Spain can and will keep on offering in the international scene, on the big screen and on the booming TV series landscape."
This year's mentor is leading filmmaker Isabel Coixet. She talks to Screen about how she has forged her own international career, what she has learnt and what she would like those who are following in her footsteps to know. Screen also talks with Miguel Salvat, vice president and commissioning editor of original production in Spain for Warner Bros Discovery International, parent company of HBO Max, about how the company works with the country's rich and distinctive seam of established and emerging talent.
The profiles and interviews comprise the special print edition of the showcase. A photoshoot took place in late September in Madrid at the Mandarin Oriental Ritz Hotel with photographer Caterina Barjau.
HBO Max Spain said: "It is a pleasure for HBO Max in Spain to be supporting this year's Stars of Tomorrow initiative as part of our strong commitment with the Spanish industry. This just unveiled amazing list of rising stars is full of talent and we wish them the best for the bright future they have ahead."
Screen International editor Matt Mueller said: "We are delighted to welcome HBO Max as our headline sponsor, and welcome back the Spanish Film Commission as our supporting partners, for the second edition of Spain Stars of Tomorrow. With the rise of the streamers and the accompanying content boom, the opportunities for Spanish talent to travel internationally have never been greater. We are proud of this year's Spain Stars of Tomorrow selection, and look forward to seeing these rising Spanish talents break out on the international stage."
Screen's Spain Stars of Tomorrow 2022
Actors
Filmmakers
Spain Stars of Tomorrow launched in 2021, showcasing talents including Money Heist and Welcome To Eden actor Dariam Coco and filmmaker Elena López Riera, whose debut feature The Water was selected for Cannes earlier this year. Also selected for the inaugural Spain talent showcase last year were actors Berta Castañé, Guillermo Lasheras, Jone Laspiur, Alex Monner, Mireia Oriol, Ton Vieira, and filmmakers Alvaro Gago and Jiajie Yu Yan.
Screen International's UK and Ireland Stars of Tomorrow was launched in 2004 and has a well-regarded track record of discovering above and below the line talent, including some of today's biggest names in film and television. Many have gone on to become multiple Bafta and Oscar winners and nominees. Alumni include John Boyega, Emily Blunt, Robert Pattinson, Rose Glass, Phoebe Waller-Bridge, Michaela Coel, Carey Mulligan, Florence Pugh and Paul Mescal.
Screen's Arab Stars of Tomorrow initiative was launched in 2016 and has showcased talents including Moroccan filmmaker Alaa Eddine Aljem, Lebanese director Mounia Akl and Palestinian actress Maria Zreik.
Watch a behind-the-scenes video from our Spain Stars Of Tomorrow 2022 photoshoot at the Mandarin Oriental Ritz Hotel in Madrid.