Screen is launching its jury grid for the 2019 Cannes Film Festival, and for the first time has included a print version of the jury grid in its day one Cannes magazine for readers to fill in themselves.
The print grid, which can be found at the back of the first daily, is intended to be removed from the magazine and affixed to a wall, and then filled with the scores given by our critics throughout the festival.
There is also space to add your own scores, plus a box to predict the eventual Palme d'Or winner.
Find a copy of Screen today, take part, and share your grid with us at @screendaily on Twitter, Facebook and Instagram!
This year's participating critics are:
Stephanie Zacharek – Time Magazine, US
Justin Chang – LA Times, US
Peter Bradshaw – The Guardian, UK
Nick James – Sight and Sound, UK
Julien Gester and Didier Peron – Libération, Fr
Michel Ciment – Positif, Fr
Katja Nicodemus – Die Zeit, Ger
Wang Muyan – The Paper, China
Anton Dolin – Meduza, Rus
Screen's own critic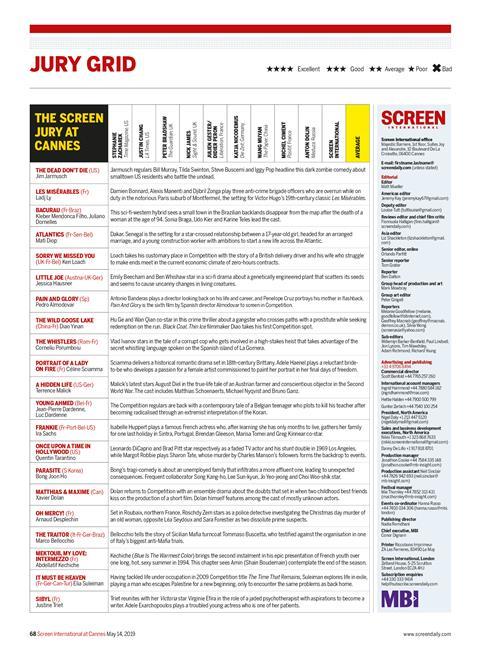 As in previous years, critics will record a score for each of the Competition titles, on the following scale: four (excellent), three (good), two (average), one (poor), and zero (bad).
These scores are then combined to produce an average, which is rounded up/down to the nearest tenth.
The grid will begin with Jim Jarmusch's The Dead Don't Die, premiering tonight (May 14).
Last year's Cannes jury grid saw Lee Chang-dong's Burning set an all-time record score of 3.8, while Hirokazu Kore-eda's Palme d'Or winning Shoplifters scored 3.2.