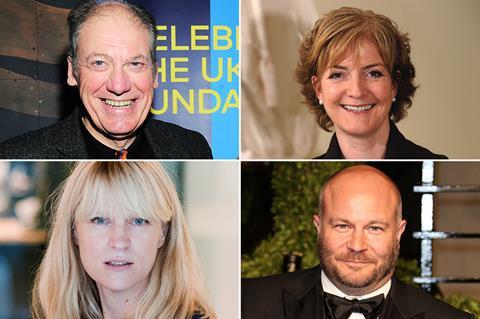 The latest in our Screen Talks webinar series is taking place on Tuesday June 16 at 15.30 BST and will look at how the UK's new Covid-19 guidelines can help independent film producers and their creative departments to safely get back up and running on set and on location.
This episode of Screen Talks is sponsored by the British Film Institute and the British Film Commission.
The 'Working Safely During Covid-19 in Film and High-End TV Drama Production' guidance published last week signalled the road back to recovery for film production in the UK. The development of the protocols included a rapidly conducted but widespread industry consultation and a live working manual will be updated as new practices and processes emerge.
British Film Commission CEO Adrian Wootton worked closely with the BFI Screen Sector Task Force to put the guidelines together. He will be joined by Sara Putt, who runs the leading agency for film and TV heads of department in the UK, Gareth Ellis-Unwin, head of film and animation at ScreenSkills, who is identifying the new training demands of the guidelines, and producer Kate Norrish of Hillbilly Films, who was shooting Reggie Yates' Pirates right up until late March when the production was forced to close due to lockdown.
They will discuss how the guidelines can help UK independent producers and filmmakers address a myriad of new challenges to get the cameras rolling again. The session will be hosted by Screen International's deputy editor Louise Tutt.
The 30-minute discussion will be followed by a live Q&A in which the audience will be able to ask questions to the speakers; advance questions can also be sent to orlando.parfitt@screendaily.com. The webinar password will be emailed after registration. The webinar will be available to watch on Screendaily.com after it has taken place.
Panellists
Adrian Wootton is the chief executive of Film London, the agency charged with developing the screen industries in the UK capital, and the British Film Commission, the unit responsible for promoting the UK as the best place to produce feature films and high-end television.
Sara Putt runs Sara Putt Associates a leading talent agency for technicians and production personnel. The company nurtures talent from diverse backgrounds, providing crew working in film and TV industry, helping new crews develop their careers via its Trainee Scheme and nurturing talented individuals to enter the industry through its Foundation Programme. Putt sits on the Bafta board and is chair of its learning and new talent committee and deputy chair of the TV committee. She is a trustee of the Film and TV Charity and Deputy Chair of WFTV.
Gareth Ellis-Unwin joined ScreenSkills as head of film and animation after more than 25 years' experience as an assistant director and Academy and BAFTA Award-winning producer. He is the co-founder of Bedlam Film Productions with producing credits including The King's Speech, Steel Country, Kajaki: The True Story, Zaytoun and Exam.
Kate Norrish is a Bafta-award winning producer and joint managing director of Hillbilly Films & Television. Before the lockdown Norrish was producing Reggie Yates' debut feature film Pirates for BBC Films and the BFI, which was halted with 10 shoot days left to complete. Her further credits include Random for Channel 4 and/Film4 by writer-director debbie tucker green, Holy Flying Circus for BBC4, written by Tony Roche and directed by Owen Harris, Second Coming for Film4, also by Debbie Tucker Green as well as TV series Loaded for Channel 4, AMC by Jon Brown and The Level for ITV by Gaby Chiappe and Alex Perrin.
This episode of Screen Talks is sponsored by: