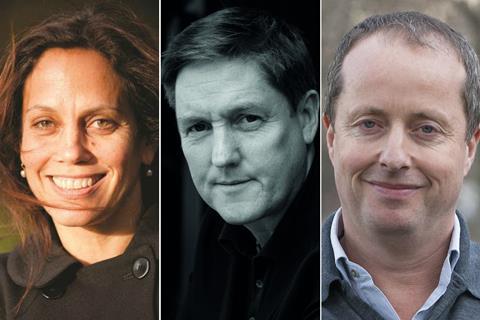 This Screen Talks webinar is taking place on Thursday May 7 at 15.00 BST. Three leading independent producers will share experiences and debate ways the UK can restart production as it moves out of lockdown. How can insurance issues be surmounted? Will actors, crew and directors still be available? What might a 'Covid-safe' shoot look like?
The speakers are Elizabeth Karlsen of Number 9 Films, Mike Elliott of Emu Films and Andrew Lowe of Element Pictures.
The 30-minute discussion will be followed by a live Q&A in which the audience will be able to ask questions to the producers; we can also take advance questions at orlando.parfitt@screendaily.com. The webinar password will be emailed after registration.
This session of Screen Talks will be available to watch on Screendaily after it has taken place.
The speakers are:
Mike Elliott of London and Manchester-based Emu Films was poised to shoot Terence Davies' Benediction when the UK lockdown due to the Covid-19 pandemic forced him to put the production on hiatus. He also produced Mitch Jenkins' The Show which was due to premiere at SXSW. Elliott has made his name with festival favourites The Goob, Catch Me Daddy, Jawbone and Dirty God.
Elizabeth Karlsen runs Number 9 Films with her husband and producing partner Stephen Woolley. Her recent credits include Todd Haynes' Carol and Wash Westmoreland's Colette. In 2019 Karlsen and Woolley received the Bafta award for outstanding contribution to British film. She is hoping to shoot Alice Birch's adaptation of Graham Swift's Mothering Sunday later this year. Eva Husson is set to direct.
Andrew Lowe is the co-founder with Ed Guiney, of Dublin, London and Belfast-based producer, distributor and exhibitor Element Pictures. Its productions include the TV adaptation ofSally Rooney's novel Normal People for BBC Three and Hulu, directed by Lenny Abrahamson, Yorgos Lanthimos' Academy Award, Golden Globe and BAFTA-winning film,The Favourite and Lenny Abrahamson's Academy Award, Golden Globe and BAFTA-winning film, Room.