The UK's Covid-19 production guidelines "are not something set in stone" and will adapt to new information, according to British Film Commission (BFC) CEO Adrian Wootton.
Wootton was speaking on Screen's latest Screen Talks session (June 16) about restarting independent film production in the UK, alongside Sara Putt of film agency Sara Putt Associates; Gareth Ellis-Unwin, head of film and animation at training body ScreenSkills; and producer Kate Norrish of Hillbilly Films. Screen's deputy editor Louise Tutt hosted the session, which is available to watch in full below.
This episode of Screen Talks was sponsored by the British Film Institute and the British Film Commission.
The BFC published its Covid-19 production guidance at the start of this month. "What we wanted to do was give a detailed outline of what all the different challenges and potential solutions were for people to be able to shoot safely on and off location, on set and elsewhere," said Wootton.
He stated that "pretty much every government department" had contributed to the document, and that it is intended to adapt as new information comes out. "They're not something set in stone," he said. "They're constantly being updated every time we get anything that suggests they should be adapted."
"We're not a statutory enforcement body," Wootton added on the topic of whether productions will stick to the guidelines. "These are voluntary, they are guidance. They're not the 10 commandments, sermon on the mount. If there are instances of problems that are caused by coronavirus because people have behaved irresponsibly, the Health and Safety Executive have said they will use the guidance as a tool when they investigate."
"The question I keep hearing over and over again is 'will there be time?'" said Putt. "Prep time is going to have to go back to being proper prep time rather than 'waiting for the script' time. Get talking – put all your heads of department on Zoom calls really early in the day."
Ellis-Unwin detailed a free online course that ScreenSkills will launch "before this month is out", that will provide "a basic piece of training" on safe working in the time of coronavirus.
The 30-minute programme was developed by health and safety specialists First Option and training body Skills For Health, which has previously trained the police, fire service, and parts of the National Health Service.
"The ambition is to get everyone's basic level of awareness up to a slightly higher standard," said Ellis-Unwin. "It's built around three pillars of 'how do I keep myself safer?', 'how do I keep my colleagues safe?', and 'how do I keep my environment safe?'
"A lot of the inward investment agents will have health and safety policies that are designed and devised in Burbank," he continued. "This is where the independent space is particularly exposed. We've got to do a lot of this ourselves. It was a particular pleasure with my independent background to know that this guidance would be designed to help assist the independent space back onto its feet."
Contact sport
Hillbilly was forced to pause a London shoot on Reggie Yates' directorial debut Pirates with 10 days remaining. "We're coming up with a whole set of protocols and guidelines, just for us," said Norrish. "The biggest stumbling block that remains is that two-metre distancing rule and actors."
Norrish noted any new measures had to allow the natural rhythms of acting to continue.
"Football is analogous in the sense that it is a contact sport – to some extent acting is a contact sport," she said. "Without actors being able to properly do what they do best, you're not going to get the best stuff on screen.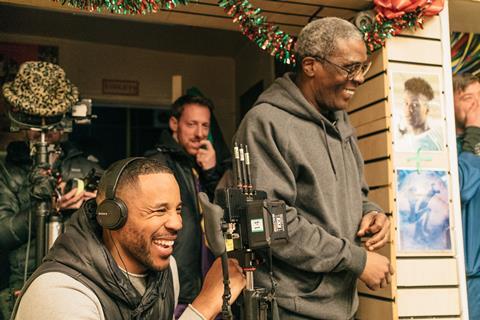 "All the protocols behind the cameras are difficult but manageable. But we need to come to an understanding of how we function with people on the field of play – how they can act without compromise, because we can't do everything at two metres distance."
"There is real difficulty, there's no two ways about it," said Wootton. "We're waiting for an updated set of guidance [from the government] which is so that hairdressers, beauticians etc can all go back to work. I think that will modify some of the areas around personal care.
"What we're saying to people is yes, do not break rules," he continued. "But if you have to do things that are unavoidable: break into teams. Try and reduce the amount of face-to-face contact. People are having to use PPE if they need to."
Ellis-Unwin advised that the guidance is not an "enforcer", but rather "a practical toolkit to try and devise some best practice.
"The guidance wasn't created because we felt that there could be a silver bullet to this horrible disease," he said. "The inescapable truth is that this disease is still present. It is about trying to manage risk. We want to get back to work, you should be getting back to work, but it has to be safe."
Insurance
The topic of insurance has caused concern for many in the independent sector. Both Ellis-Unwin and Wootton referred to the insurance plan, submitted to the Department of Culture, Media and Sport at the end of last month, to which "the highest echelons of government are listening" according to the BFC head.
"They are recognising the significance of the situation," he said. "I've got my fingers crossed that that listening keeps on and we arrive at a positive outcome."
Ellis-Unwin cautioned against seeing all insurance through the prism of coronavirus.
"It does worry me when people talk about insurance in the absolute," he said. "It is not that productions are not insured. Your equipment insurance is still in place; your employer's liability is in place; your public liability is still in place. It's not right to say that all insurance is cast aside to this particular issue."
In response, Norrish highlighted the danger for independent producers of following the safety guidelines but falling foul of a second lockdown. "It's [about] who is covering those costs, because I think that was a real shock when it first happened," she said, while noting that Pirates was fortunate in having taken out insurance before the Covid-19 exclusion came into force.
Diversity
Representation continues to be a problem in the UK industry, with concerns that reduced crews due to Covid-19 will close off opportunities for those who need them most.
"Not, in my small way, if I have anything to do with it," said Putt. "The majority of decent producers I'm lucky enough to be dealing with are all absolutely aware that that is our talent pipeline, and we need somehow to preserve it."
"There'd be far fewer people on set whilst we're filming," said Norrish. "But actually, we might need more crew behind the scenes. It takes so much time to clean everything that we will want trainees. We might be keeping distance from the set but there's a lot of learning that can be done from there."
Referring to ScreenSkills current cohort of 250 trainees, Ellis-Unwin said "We're educating them that the roles may have shifted since when they boarded at the start, but they will have an essential role.
"This has been a bit of a reset button on the independent film model," he continued. "I don't think any of us would suggest that we were in particularly rude health before Covid-19. What this period of time has done is got some revitalised discussions going on about the world of insurance, the role of the completion guarantor, the process of closing finance on an independent film – how some of that could potentially be streamlined up to a certain budget level.
"I'm seeing a bit of opportunity here as well – we could actually try and come out the other side of this with a slightly better independent model."
The next Screen Talks session will be announced shortly.