EXCLUSIVE: Deals include The Trust and Dear White People.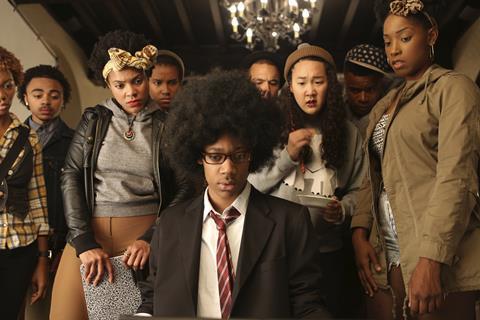 UK distributor Signature Entertainment has added six titles to add to its slate for 2015, including action-thriller The Trust, starring Nicolas Cage and Elijah Wood, and Sundance 2014 comedy Dear White People.
Violent crime-caper The Trust, about two corrupt cops, was acquired from Highland Film Group.
Dear White People, about a group of African American students navigating campus life and racial politics at a predominantly white college, was acquired from The Exchange.
Also new to the slate is supernatural thriller Daughter of God from Fortitude International, starring Keanu Reeves as a detective investigating his partner's mysterious death, and from 6 Sales and Moonrise Pictures, the Morgan Freeman, Olga Kurylenko and James Purefoy action-thriller Momentum, about a ruthless femme fatale on the run from a deadly assassin squad.
Rounding out the new acquisitions are Damascus Cover from Carnaby International, in which Jonathan Rhys Meyers stars alongside John Hurt and Olivia Thirlby, in the story of a spy who goes undercover in Syria to smuggle a chemical weapons scientist and his family out of Damascus, and period-adventure Admiral, starring Charles Dance, from Arclight Films.
Marc Goldberg, managing director for Signature Entertainment, said: "We are very proud and extremely excited to have these films on our slate for 2015. They cross a diverse range of topics, some of them very current, and we are keen to hear the reactions from UK audiences.
"Adding these films to our existing slate for 2015 and 2016 now means we are set for another really strong year, and we look forward to bringing these films to film fans across the UK."
Founded four years ago, Signature's catalogue now comprises more than 250 titles.